Dr RETTER® U.3. UREARIO GEL RELIEF FOR TIRED AND HEAVY LEGS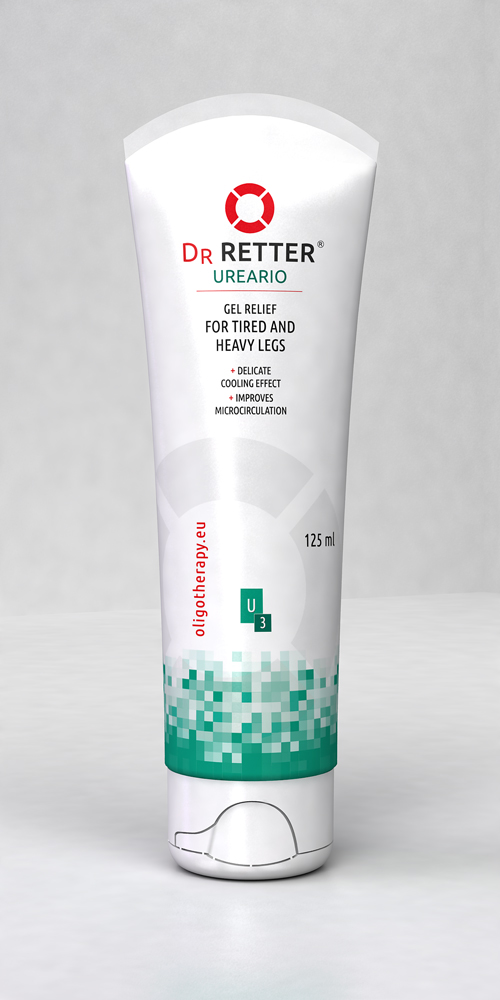 + DELICATE COOLING EFFECT
+ IMPROVES MICROCIRCULATION
PURPOSE: This gel improves blood microcirculation and eliminates leg swelling. Brings relief, mitigates fatigue, gives a pleasant feeling of relaxation to so called "heavy legs". Specially recommended for those who stand for long periods of time during the day.
ACTION: This gel provides quick and effective relief, leaving your tired legs feeling pleasantly relaxed. The synergetic combination of plant extracts of arnica and chestnut relieves spasms of blood vessels, stimulates microcirculation and reduces swelling. Extracts of hamamelis and butcher's broom effectively fight "spider veins", restore skin firmness and elasticity. This active formula eliminates capillary spasms, relieves the skin of redness, improving its firmness and elasticity. Menthol delivers a delicate cooling sensation, urea perfectly moisturises and regenerates the epidermis. The gel is quickly absorbed, leaving a thin protective layer on the skin surface. Leaves you feeling pleasantly relaxed.
EFFECT: This gel for relieving tired, "heavy" legs effectively relaxes, soothes and cools. High quality herbal extracts, rich in flavonids, improve blood microcirculation, eradicate swelling. The skin is moisturised, silky smooth, elastic and firm. The gel leaves you feeling calm and cool.
HOW TO USE: Apply a small amount to areas of the legs in need of attention, rub in gently. Use as necessary.
ACTIVE INGREDIENTS: urea, arnica extract, hamamelis extract, chestnut extract, butcher's groom extract, menthol, D-panthenol.
SAFETY: UNIQUE FORMULA "OLIGOTHERAPY 0%" is free fom parabens, vaseline, essential oils, propylene glycol, phthalates, gluten, substances derived from genetically modified cultures.
PARABEN-FREE FORMULA
HYPOALLERGENIC AROMATIC COMPOSITION
RELIEF FOR "HEAVY" LEGS
Packaging: tube 125 ml
Art. # 275.00