Dr RETTER® U.1. UREARIO INTENSIVE SOFTENING FOOT CREAM [UREA 15%]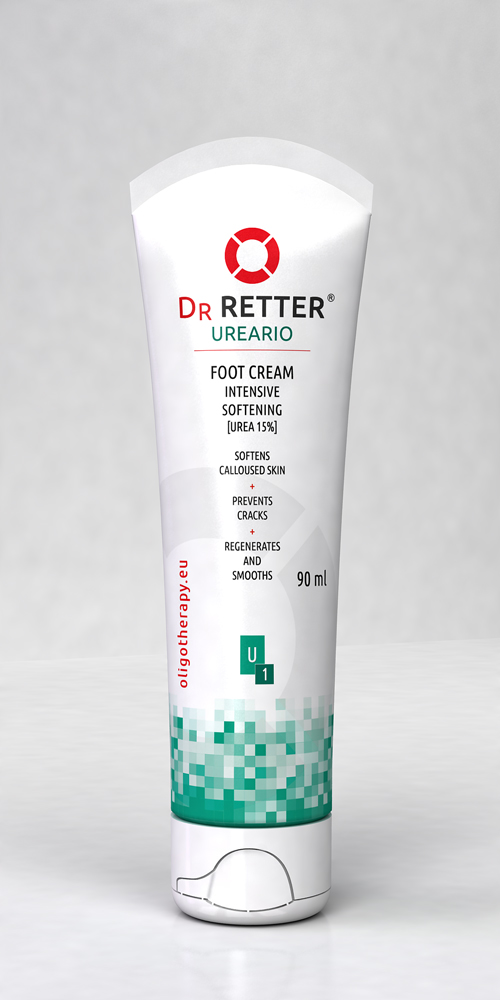 + SOFTENS CALLOUSED SKIN
+ PREVENTS CRACKS
+ SMOOTHS AND REGENERATES
PURPOSE: Use the cream for daily care of dry, rough and cracked skin of the heels.
ACTION: This softening foot cream delivers excellent regeneration and intensive moisturisation to dry, cracked skin, and minimises formation of new cracks. Reduces roughness due to a high 15% content of moisturising urea and nourishing Shea butter. The softening formula is enriched with lanolin which smooths the skin and forms a protective barrier on its surface, preventing moisture loss from cells. Menthol and peppermint extract give an incredibly pleasant cooling sensation and enhance the moisturising effect. The synergetic composition of allantoin and D-panthenol actively eliminates irritation and heals microdamage. Feel the skin of your feet become soft and pleasantly cool.
EFFECT: An ideal cream for daily care of the heels effectively helps to reduce roughness, reduces crack formation, soothes and relieves irritation. Used regularly, it quickly makes the skin look beautiful again, smooths and regenerates. The cream refreshes feet, makes the skin soft, elastic and healthy, leaving you feeling comfortable. It is quickly absorbed. To ensure the therapeutic effect of regeneration, moisturisation and nutrition, apply the cream generously to the feet and leave overnight.
HOW TO USE: apply the cream to clean, dry skin, rub in gently with circular movements. After you reach the desired effect, we recommend continued use to maintain ideal skin condition and beautiful feet.
ACTIVE INGREDIENTS: urea, Shea butter, lanolin, pepper mint extract, D-panthenol, allantoin, vitamin Е.
SAFETY: UNIQUE FORMULA "OLIGOTHERAPY 0%" is free from parabens, vaseline, essential oils, propylene glycol, synthetic colorants, phthalates, gluten, substances derived from genetically modified cultures.
PARABEN-FREE FORMULA
HYPOALLERGINIC AROMATIC COMPOSITION
IDEAL DAILY CARE
Packaging: tube 90 ml
Art. # 273.00