Dr RETTER® R.2. REGENERATIO VITAMINS A, E & D SKIN RECOVERY MOISTURIZING CREAM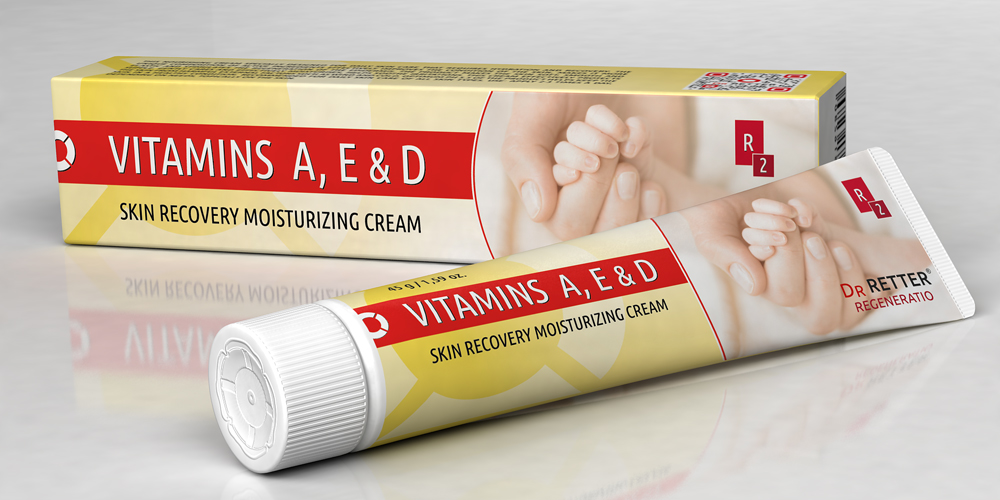 – Temporarily protects & soothes minor cuts, burns, and scrapes;
– Helps temporarily protect, relieve & prevent chapped, chafed or cracked dry skin or minor skin irritations caused by diaper rash;
– Prevents and protects from diaper rash caused by wetness or urine;
– Reduces the drying effects of wind and cold weather.
This nourishing cream is specially designed for daily skin care that requires hydration and regeneration.
The unique composition of active ingredients effectively improves the condition of the skin, makes it more elastic and stimulates the restoration of the epidermis.
This product makes the skin soft, smooth and supple.
Gently cares and effectively moisturises, helps soothe irritation.
This cream effectively protects the skin from harmful external factors such as wind and cold.
The optimum pH of 5.5 of the product helps keep the skin in a healthy condition.
Recommended for daily skin care of all skin types.
Use: apply 2-3 times daily, topically to the skin.
Packaging: tube 45 g, carton box, leaflet
Art. # 283.00