Dr RETTER® P.1. CAPILLARIO ANTI-CAPILLARY DAY CREAM WITH UVA/UVB FILTER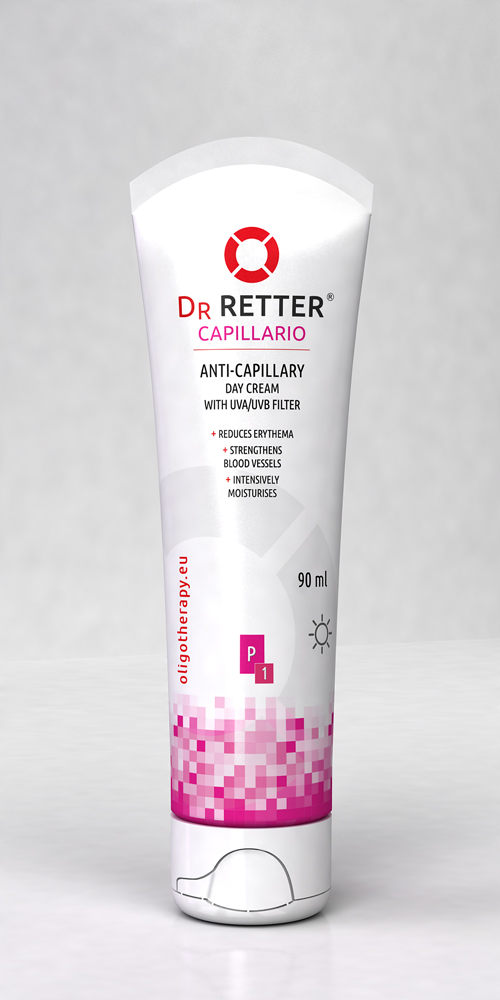 + REDUCES ERYTHEMA
+ STRENGTHENS BLOOD VESSELS
+ INTENSIVELY MOISTURISES
PURPOSE: Use the cream for daily care of sensitive skin with fragile, dilated capillaries, prone to erythema and irritation.
ACTION: The highly concentrated formula of the cream strengthens fragile blood vessels and delivers effective care for sensitive, vascular skin. The product is quickly absorbed and forms a perfect base for daily skin care. Synergetic combination of bioactive vitamin Р (isoquercetin), mountain arnica and butcher's-broom extracts makes redness less pronounced, activates blood microcirculation, strengthens and narrows capillaries. Vitamin E along with sun filters UVA/UVB prevents skin from harmful environmental effects and the impact of free radicals which can induce premature aging. The green pigment contained in the nourishing formula effectively masks dilated vessels and evens the skin tone.
EFFECT: The cream formula, enriched with active components, delivers excellent nutrition and regeneration to sensitive vascular skin. Shea butter restores the natural hydro-lipid layer and smooths the epidermis. Wheat germ oil is a source of essential lipids, D-panthenol and allantoin actively combat irritation and inflammation. Hyaluronic acid optimally hydrates skin, maintaining perfect skin condition.
HOW TO USE: Apply a small amount of the cream to clean skin, rub in gently. Use every morning. Ideally suitable for use as makeup foundation.
ACTIVE INGREDIENTS: bioactive vitamin Р (isoquercetin), mountain arnica extract, butcher's-broom extract, hyaluronic acid, UVA/UVB sun filters, vitamin Е, allantoin, D-panthenol.
SAFETY: UNIQUE FORMULA "OLIGOTHERAPY 0%" is free from preservatives, parabens, vaseline, essential oils, propylene glycol, synthetic colorants, phthalates, gluten, substances derived from genetically modified cultures.
PRESERVATIVE-FREE FORMULA
HYPOALLERGENIC AROMATIC COMPOSITION
IDEAL DAILY CARE
Packaging: tube 90 ml
Art. # 268.00