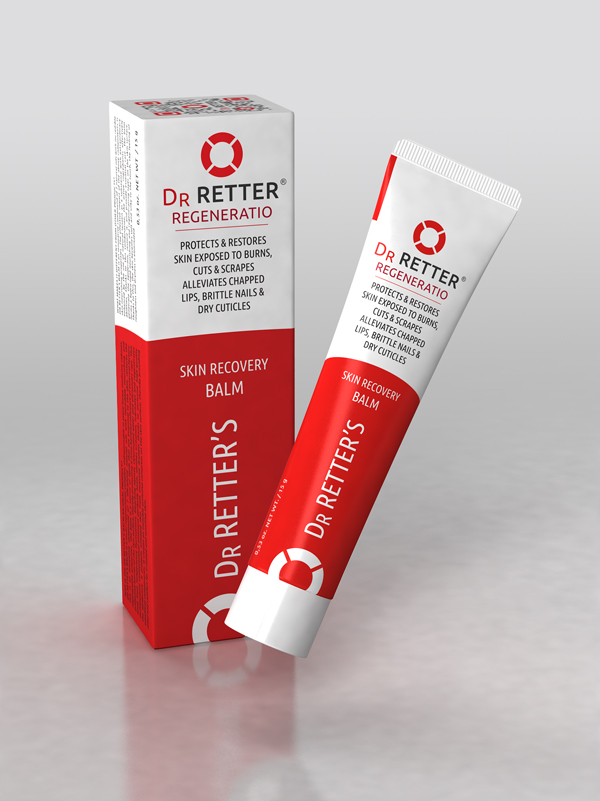 THE MULTIREGENERATION COMPRESS FOR YOUR SKIN!
NOURISHES + REGENERATES + RECONSTRUCTS
UNIQUE ACTIVE composition based on milk lipids, lanolin, buckthorn oil, calendula and propolis
QUICK REGENERATION Indispensable and effective in any situation where skin is exposed to influence of harmful heat factors
EFFECTIVE PROTECTION against wind and frost – it makes the skin stronger and firmer!
IDEAL CARE for skin that is prone to itching, cornification, or cracking (palms, elbows, feet, heels)
DR RETTER'S BALM is a specialised cosmetic product created on the basis of years of research and in-depth analysis of typical skin problems that occur due to lack of sufficient nutritional lipids in the epidermis. The balm perfectly eliminates typical skin problems, such as the feeling of roughness, dryness and tension, dehydration, loss of elasticity, hypersensitivity to irritation and discoloration.
The balm possesses extraordinary sensory properties; it acts as a kind healing poultice on the skin.  It eliminates roughness of the epidermis, limits peeling, strengthens the skin's protective barrier, and therefore protects it from harmful environmental effects. The skin becomes smooth and soft. It protects irritated skin from excessive dryness, thanks to a large number of emollient components. It restores a natural protective layer, resulting in the skin becoming resistant to changing weather conditions (cold, wind, sun) and to harmful effects of whitening agents or UV radiation. The balm provides effective skin care, providing nourishment and restoration.
Active components: natural life-giving oils: argan, avocado, rapeseed, buckthorn, olive, sweet almond, wheat germ, lanolin, vitamin Е, vitamin А.
Ingredients [INCI]: Paraffinum Liquidum, Cera Mirocristallina, Canola Oil, Caprylic/Capric Triglyceride, Cetyl Ricinoleate, Lanolin, Olea Europea (Olive) Fruit Oil, Cera Alba, Persea gratissima (Avocado) Oil, Argania Spinosa (Argan) Nut Oil, Hippophae Rhamnoides (Seabuckthorn) Berry Oil, Prunus Amygdalus Dulcis (Sweet Almond) Oil, Triticum Vulgare (Wheat) Germ Oil, Tocopherol Acetate, PEG-8, Tocopherol, Ascorbyl Palmitate, Ascorbic Acid, Citric Acid.
1. WHY IS THE DR RETTER'S BALM AN IDEAL PRODUCT?
DR RETTER'S BALM is a multiregeneration complex, indispensable in every home medicine cabinet. This is an innovative compound of 7 life-giving natural oils with incredible nourishing and regenerative properties. The balm is a source of lipids that are essential to the skin, restores the protective barrier of the skin surface, thereby protecting it from harmful influence of external factors: wind, frost, temperature fluctuations, bleaching agents, chlorinated water, ultraviolet rays. This multipurpose cosmetic product perfectly heals, soothes irritation, lubricates and regenerates the epidermis. It protects irritated skin from excessive dryness thanks to exclusive high-quality emollient components. It creates an invisible occlusive compress on the skin surface, thereby providing relief and comfort for irritated and sensitive skin.
2. WHAT MAKES IT DIFFERENT FROM OTHER PRODUCTS?
DR RETTER'S BALM is an innovative compound of 7 natural oils with incredible skin-nourishing properties. The effective impact of the above components is enhanced by the use of natural lanolin as a substance with extraordinary abilities. Thanks to this combination, the vitamins and mineral salts effectively penetrate the epidermis, restore it, and provide essential care. The balm forms a hydrolipid nourishing and regenerating layer on the skin surface. Thanks to this, the skin becomes soft and silky to the touch, the feeling of roughness and dryness is eliminated.
3. WHO NEEDS THE DR RETTER'S BALM?
If you have very dry, delicate and sensitive skin, then this product is exactly for you. If you are suffering from over-dry, inflamed lips, hands, knees, elbows and heels, this product is a must in your home medicine cabinet. DR RETTER'S BALM relieves irritation, soothes and improves the condition of your skin. It minimises shedding of the epidermis, irradicates the feeling of tightness and burning in delicate, sensitive areas. It intensively nourishes and heals the skin, increasing its resistance to harmful environmental factors. The balm works quickly and efficiently – within 24 hours after application, the condition of your will skin significantly improve, a feeling of relief and comfort is restored.
4. CAN DR RETTER'S BALM RESTORE CHAPPED LIPS, DRY SKIN ON ELBOWS AND HEELS?
The lipid components contained in the product gently soften the epidermis, eliminate roughness and relieve the feeling of tightness of the skin. The components soothe allergic skin reactions, strengthen the skin's structure, smooth chapped lips or very dry skin, including elbows and knees. The balm is rich in essential vitamins A and E, which strengthen and regenerate the skin, protecting it from harmful effects of free radicals, enhancing the synthesis of collagen and elastin. Those "vitamins of youth", which, in combination with natural plant oils, provide effective relief and protection for very demanding parts of the body. Sweet almond oil lubricates, softens and provides elasticity to the skin, thus preventing the appearance of stretch marks.
5. WHAT DOES THE DR RETTER'S BALM CONTAIN IN ITS COMPOSITION?
DR RETTER'S BALM is a product with unique characteristics for skin care. It contains the most valuable life-giving oils. The formula of the balm is based on avocado oil, which is a mixture of 7 various vitamins. It perfectly smoothes, restores, nourishes, and protects the skin from harmful environmental exposure. The oil penetrates deeply into the epidermis and provides the skin with essential nutrients, restores the hydrolipid layer of the skin and reduces flaking. The use of canola oil provides protection from harmful effects of the environment, and efficient regeneration of dry and cracked skin. It improves skin hydration and nutrition. Olive oil is rich in vitamin F, which protects the skin from transepidermal water loss; it slows the aging process and smoothes, softens and nourishes the skin. Buckthorn oil calms and relieves inflammatory conditions and supports regeneration of the epidermis. It simultaneously nourishes, lubricates and moisturises the skin, and thanks to its colour, gives the skin a healthy glow. Its particular colour is due to a high content of vitamin A in the form of beta-carotene and lycopene. Buckthorn oil strengthens blood vessels and is a source of vitamin E which is a natural antioxidant. Sweet almond oil strengthens the lipid layer of the skin, provides it with necessary physiological lipids. Wheatgerm oil additionally eliminates redness and relieves inflammatory conditions. It gently tightens the skin and provides flexibility, easily penetrates through the rough layer of the epidermis, stimulates regeneration of cells and improves blood flow. Argan oil feeds the rough layer of the epidermis, protects the lipid solution between cells, and the phospholipid layer of the cells from oxidation.
6. DOES IT HAVE PRESERVATION AGENTS?
NO! DR RETTER'S BALM is an innovative, unique product that does not contain preserving agents, parabens, colouring substances or fragrance components, greatly reducing the likelihood of irritation and inflammatory conditions is minimised.
7. HOW SAFE IS THE DR RETTER'S BALM?
Many years of research and experience has allowed us to produce a stable, highly effective, and most importantly, SAFE product for the whole family. It is indispensable in any situation, a tube of the balm fits in any home medicine chest, purse or bag. The balm contains only necessary, duly selected ingredients that protect the skin, providing safe, deep nutrition and regeneration. This unique product saves the skin, restores and regenerates it, regardless of the cause. It can be used regularly for prevention or as first-aid in extreme conditions, such as sunburn, or inflammatory conditions. It creates an invisible poultice on the skin surface, providing quick relief and comfort, eliminating the feeling of roughness and dryness.