Dr RETTER® Zn.1. ACNERIO ANTI-ACNE AND PIMPLE SPOT GEL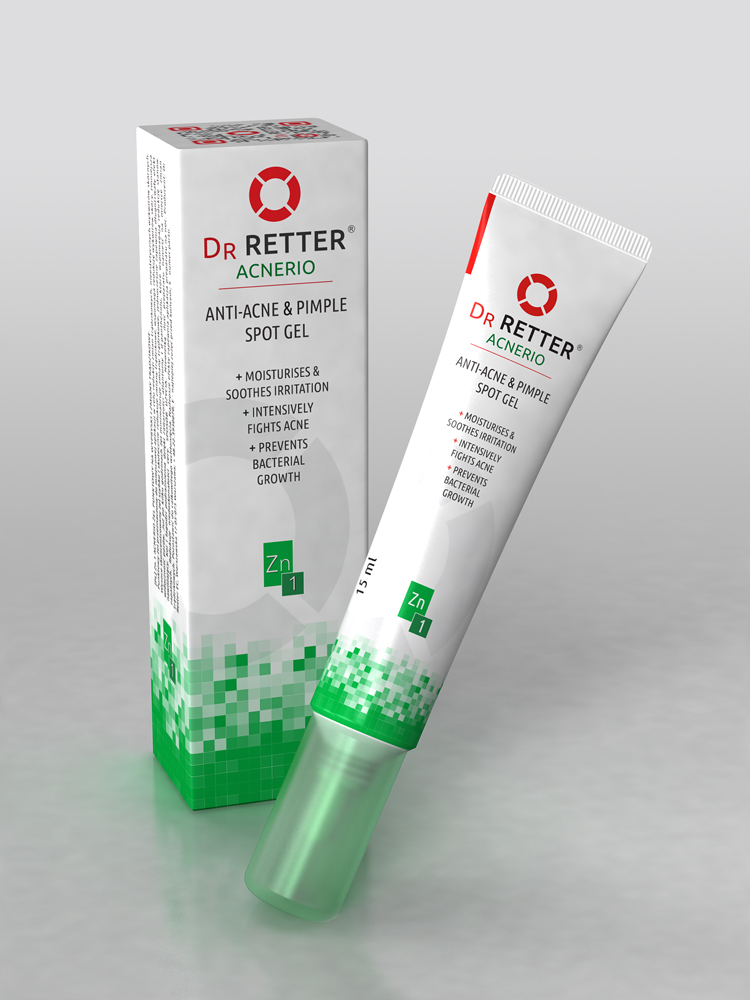 + INTENSIVELY FIGHTS ACNE
+ MOISTURISES AND SOOTHES IRRITATION
+ PREVENTS BACTERIAL GROWTH
PURPOSE: Use the spot gel locally to reduce acne breakouts on the skin.
ACTION: The spot gel effectively dries pimples, relieves irritation and inflammation, removes pimples and prevents their recurrence. Contains bioactive zinc, which, in combination with yeast glycoproteins, actively removes existing outbreaks and reduces the risk of acne recurrence. Herbal extracts of hamamelis, iris and burdock clear the skin of acne and pimples, cleanse clogged pores and accelerate the regeneration process in the epidermis. This product reduces acne scars. Hamamelis extract cleanses pores, refreshes and tones the skin. Vitamin А normalises functioning of sebaceous glands, vitamin Е relieves inflammation and moisturises. The gel is quickly absorbed, leaving a thin protective layer on the skin surface.
EFFECT: This highly concentrated gel quickly and effectively reduces acne, clears the skin of outbreaks, narrows dilated pores, simultaneously delivering lasting hydration. Eliminates skin defects. Allantoin and D-panthenol sooth the irritated epidermis, relieve inflammation. Results are visible as early as several hours after the first application.
HOW TO USE: Apply a small amount of the gel to areas affected by cane breakouts. Use overnight for optimum effect.
ACTIVE INGREDIENTS: bioactive zinc, hamamelis extract, iris extract, burdock extract, vitamin А, allantoin, biotin, D-panthenol.
SAFETY: UNIQUE FORMULA "OLIGOTHERAPY 0%" is free from parabens, vaseline, essential oils, propylene glycol, synthetic colorants, phthalates, gluten, substances derived from genetically modified cultures.
PARABEN-FREE FORMULA
HYPOALLERGENIC AROMATIC COMPOSITION
REMOVES SKIN DEFECTS
Packaging: tube 15 ml
Art. # 276.00