Dr RETTER® W.3. WINTERIUM PROTECTIVE LIP CARE BALM WITH UVA/UVB FILTERS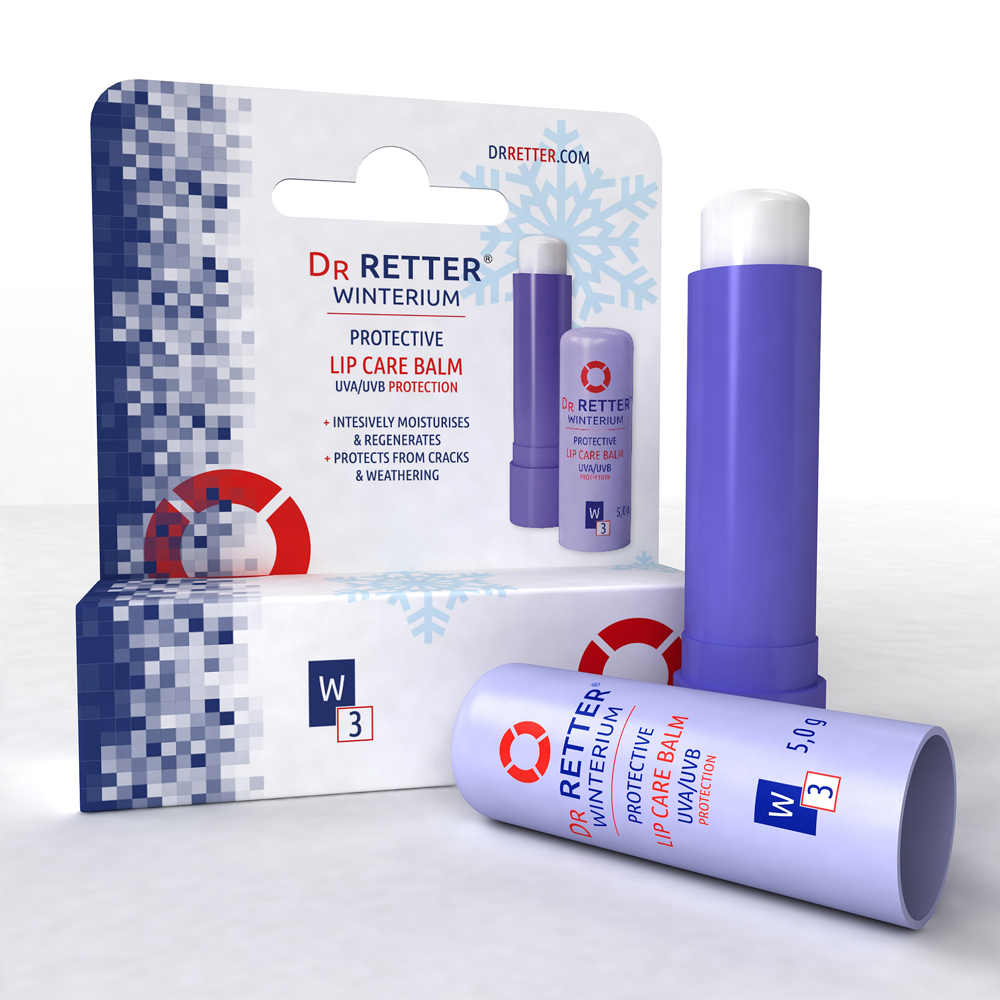 + INTESIVELY MOISTURISES AND REGENERATES
+ PROTECTS FROM CRACKS AND WEATHERING
PURPOSE: Use the protective lip salve for daily care of lips.
ACTION: This easy-to-use and highly effective protective lip salve is designed to care for the delicate skin of the lips. It quickly regenerates the epidermis and improves its condition. Due to a high content of lipid components, the product softens the skin, relieves tightness and protects from negative external factors, such as wind, frost and excessive solar radiation. Winter protect complex intensively strengthens the thin hydro lipid film, relieves shortage of lipids, regenerates the skin and covers it with a protective coat, prevents cracks and irritation. UV-filters effectively protect the skin from the harmful impact of UVA and UVB solar radiation. The formula is enriched with fatty components. Specifically, it includes nourishing Moroccan Argan Oil, actively regenerating dry, cracked skin. Almond oil delicately soothes the epidermis and protects it from unfavourable weather conditions.
EFFECT: The protective lipstick prevents the epidermis from cracking and dehydration, intensively moisturises and protects. Delivers effective care to the delicate skin of the lips, strengthens and nourishes. This balm quickly normalises weathered lips, relieves chapped skin, burning and discomfort. Owing to high content of lipid components, the lip salve softens, gently soothes and protects the skin from negative external factors like frost and wind.
ACTIVE INGREDIENTS: winter protect complex, almond oil, argan oil, lanolin, UV filters, Shea butter, vitamin Е.
SAFETY: UNIQUE FORMULA "OLIGOTHERAPY 0%" is free from preservatives, parabens, vaseline, essential oils, propylene glycol, synthetic colorants, phthalates, gluten, substances derived from genetically modified cultures.
PARABEN-FREE FORMULA
IDEAL WINTER CARE
Stick: 5 g
Packaging: lipbalm 5g, carton box
Art. # 280.00