Dr RETTER® W.2. WINTERIUM [SOS] WINTER PROTECTIVE LIP BALM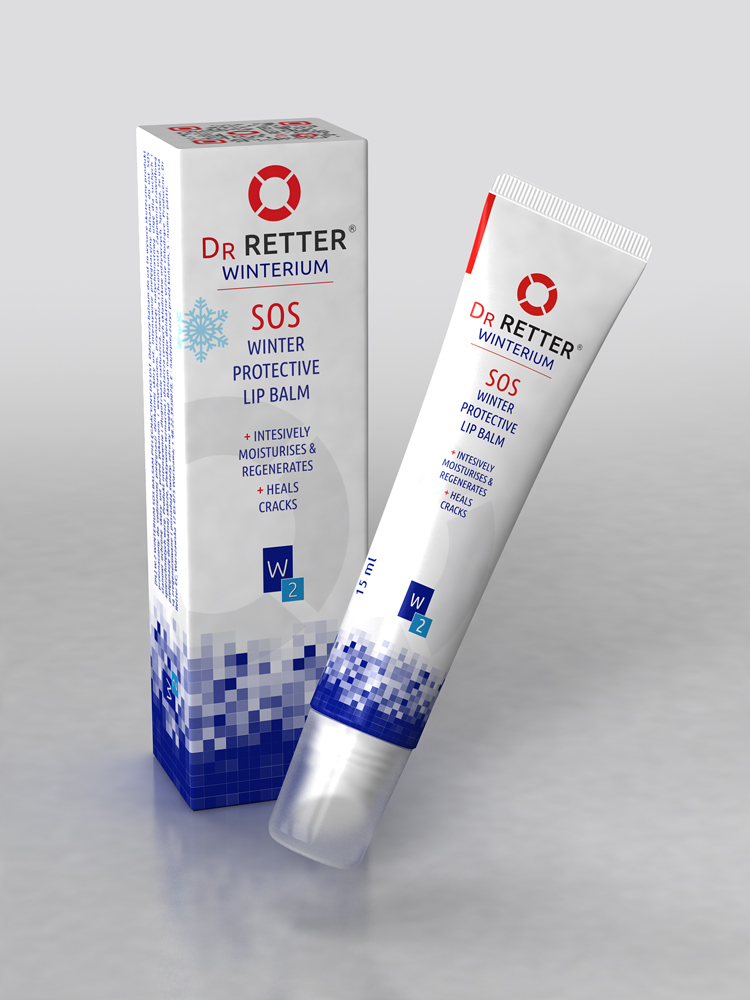 + INTESIVELY MOISTURISES AND REGENERATES
+ HEALS CHAPPED LIPS
PURPOSE: Use this nourishing balm to heal lip cracks and for daily lip care.
ACTION: This balm quickly regenerates and nourishes lips with a cooling sensation. Due to a high content of lipid components, this product effectively softens the epidermis and gently soothes and protects lips from negative external factors, such as wind, rain, frost and sunshine. The Winter protect complex of the balm intensively strengthens the thin hydrolipid layer, regenerates the skin.
Menthol and camphor leave your lips pleasantly cooled. This balm formula, enriched with lipids, contains rich avocado oil, known for its useful properties, in particular, the ability to regenerate dry, cracked skin. Ricinic oil delicately smoothes the epidermis and protects it from the harmful effects of the weather. Nourishing Shea butter restores the natural skin lipid layer and relieves soreness. This balm effectively prevents dehydration of the lips, smoothes, softens and soothes.
EFFECT: SOS intensive balm prevents cracking and dehydration of the epidermis, quickly relieving weathered lips. This product covers the skin with a protective layer, maintaining necessary lipid level and hydration. Using this balm is the basis for good lip care.
This product quickly regenerates the skin, leaving chapped lips smooth and healthy again.
ACTIVE INGREDIENTS: winter protect complex, castor oil, avocado oil, Shea butter, menthol, camphor, vitamin Е.
SAFETY: UNIQUE FORMULA "OLIGOTHERAPY 0%" is free from preservatives, parabens, essential oils, propylene glycol, synthetic colourants, phthalates, gluten, substances derived from genetically modified cultures.
PRESERVATIVE-FREE FORMULA
IDEAL DAILY CARE
Packaging: tube 15 ml
Art. # 279.00