Dr RETTER® W.1. WINTERIUM WINTER PROTECTIVE CREAM WITH UVA/UVB FILTERS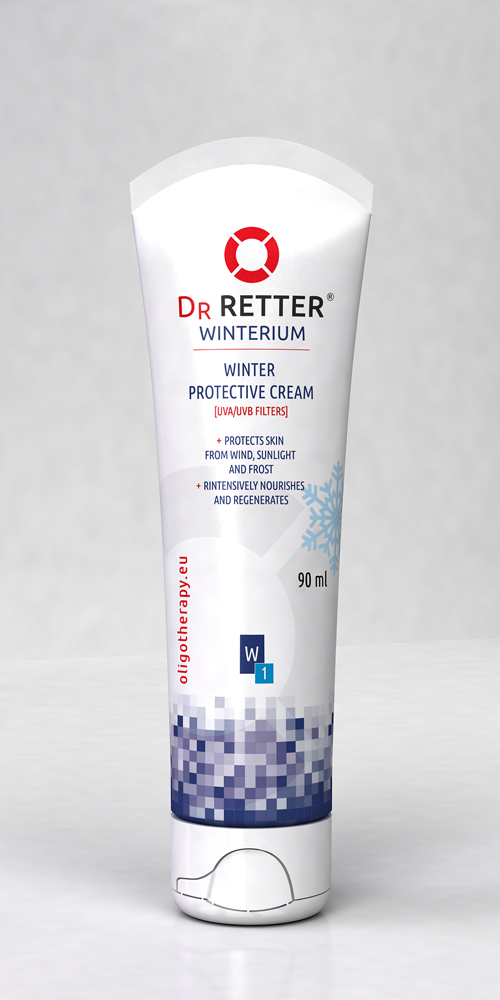 + PROTECTS SKIN FROM WIND, SUNLIGHT AND FROST
+ INTENSIVELY NOURISHES AND REGENERATES
PURPOSE: Use this highly effective cream to protect your skin in autumn and winter against unfavourable weather conditions – high humidity, frost, wind and intensive solar radiation. Perfectly suitable for winter-sport lovers.
ACTION: The effective nutritive formula of the winter protective cream supplies the skin with valuable lipid components, strengthens and regenerates the epidermis. Protects the skin from unfavourable weather conditions such as frost, wind and high humidity. The Winter protect complex intensively strengthens the hydrolipid coat of the epidermis, relieves shortage of lipids, regenerates the skin and covers it with a protective coat, preventing irritation and inflammation. UV-filters effectively protect the skin from UVA and UVB solar radiation. This cream formula is enriched with fatty components. Specifically, it includes valuable Moroccan argan oil, regenerating dry and cracked skin. Almond oil gently smooths the epidermis and protects it from unfavourable weather conditions. This cream protects the skin from frost, wind and intensive solar radiation.
EFFECT: The active ingredients of the cream deeply nourish, regenerate and strengthen the structure of the epidermis, improving its resistance to temperature variations. The product intensely enriches the skin with lipids, forming a protective coat on its surface, protecting the skin from frost, wind and intensive solar radiation. The cream smooths the surface of the epidermis, softens it and provides perfect care.
HOW TO USE: Apply a small amount to clean skin, rub in gently. Use in cold weather prior to exposure to the elements.
ACTIVE INGREDIENTS: winter protect complex, argan oil, almond oil, protective filters, allantoin, D-panthenol, vitamin Е.
SAFETY: UNIQUE FORMULA "OLIGOTHERAPY 0%" is free from parabens, vaseline, essential oils, propylene glycol, synthetic colorants, phthalates, gluten, substances derived from genetically modified cultures.
PARABEN-FREE FORMULA
IDEAL WINTER CARE
Packaging: tube 90 ml
Art. # 278.00