Dr RETTER® Si.3. SILLICUM INTENSIVE ANTI STRETCH MARK SERUM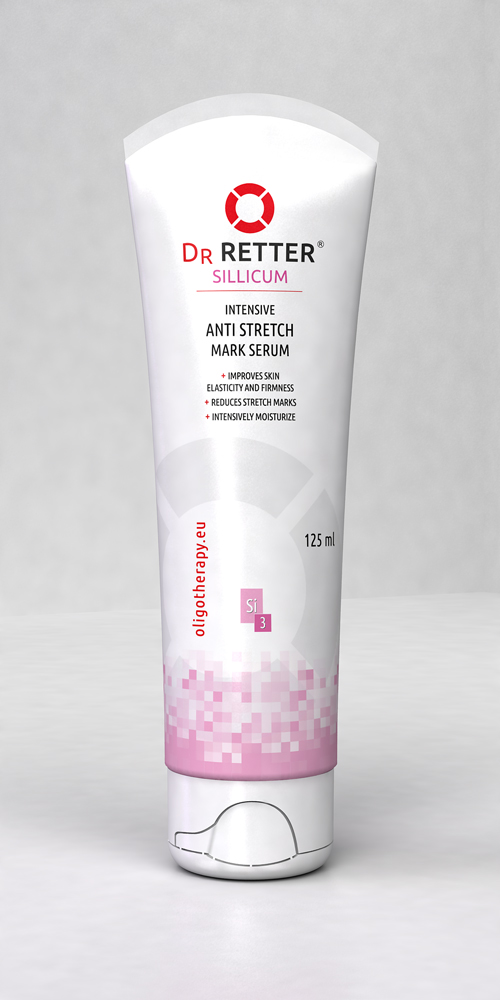 + REDUCES STRETCH MARKS
+ IMPROVES SKIN ELASTICITY AND FIRMNESS
+ INTENSIVELY MOISTURIZE
PURPOSE: Use this intensive serum to care for skin with visible stretch marks, prone to loss of elasticity and firmness.
ACTION: This serum quickly and effectively improves the skin condition, gently smooths it, moisturises and saturates it with valuable vitamins and minerals. The unique combination of improving elasticity and regeneration through the active ingredients, including bioactive silicon, strengthens collagen and elastin fibres, thereby minimising the risk of stretch marks developing. Sabal extract delivers lasting hydration to the epidermis and boosts the regeneration process. Centella asiatica extract stimulates synthesis of hyaluronic acid, invaluable for improvement of skin firmness. The complex of active ingredients, enriched with lemon extract, even out the skin tone, helping to reduce redness. Butcher's-broom extract stimulates blood microcirculation, restores skin elasticity and firmness.
EFFECT: The active ingredients contained in this highly concentrated serum, reduce existing stretch marks and minimise the risk of further development, improve skin elasticity and firmness. Due to a high concentration of herbal extracts restoring the structure of collagen and elastin fibres, the serum prevents the flaccidity and loss of elasticity. This light formula perfectly hydrates and nourishes the epidermis and evens out skin tone. The serum is quickly absorbed and leaves no oily residue on the skin.
HOW TO USE: Rub a small amount of the oil into problematic areas. Use daily, morning and evening.
ACTIVE INGREDIENTS: bioactive silicon, algae extract, lemon extract, Sabal extract, butcher's-broom extract, avocado oil, olive oil, vitamins A and Е, allantoin, D-panthenol.
SAFETY: UNIQUE FORMULA "OLIGOTHERAPY 0%" is free from parabens, vaseline, essential oils, propylene glycol, phthalates, gluten, substances derived from genetically modified cultures.
PARABEN-FREE FORMULA
HYPOALLERGINIC AROMATIC COMPOSITION
IDEAL DAILY CARE
Packaging: tube 125 ml
Art. # 272.00