Dr RETTER® Si.2. SILLICUM LIFTING MOISTURISING BUST CREAM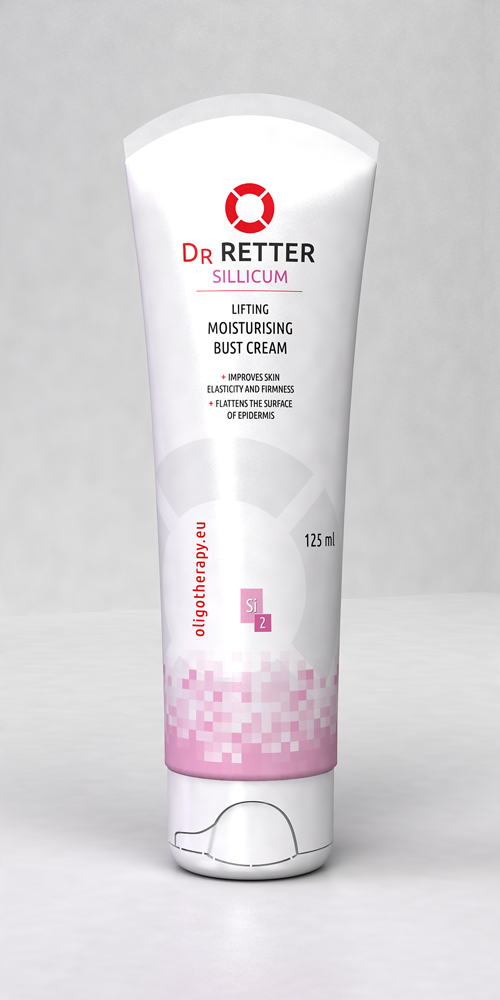 + IMPROVES SKIN ELASTICITY AND FIRMNESS
+ FLATTENS THE SURFACE OF EPIDERMIS
+ INTENSIVELY MOISTURIZES
PURPOSE: Use the cream for daily care of delicate breast skin prone to loss of elasticity and firmness and stretch mark formation.
ACTION: The intensive cream is specially designed to solve problems of delicate breast skin with loss of elasticity and firmness. The optimal combination of active ingredients nourishes and gently smooths the skin, improving its firmness. Sabal extract and bioactive silicon reduce stretch marks, strengthen collagen and elastic fibres, improve skin resistance to stretching. Algae extract superbly moisturises and nourishes the skin, supplying it with valuable minerals. Avocado oil actively softens the skin and evens out tone, making it look healthy and beautiful. Vitamin Е inhibits the ageing process, neutralising harmful impact of free radicals. This cream is quickly absorbed and leaves no oily residue.
EFFECT: This intensively moisturising cream is enriched with active ingredients which improve firmness and elasticity of the skin. The highly concentrated formula contains unsaturated fatty acids of wheat germ oil, avocado oil and Shea butter, which intensively nourish and regenerate the skin. The plant extracts penetrate deeply into the epidermis, saturating it with vitamins and minerals. They restore the natural hydrolipidic layer of the skin, strengthen collagen and elastic fibres, making the epidermis firmer and more elastic. The active ingredients of the cream soften and sooth the delicate breast skin, markedly improving its appearance, evening out the colour and making stretch marks less noticeable.
HOW TO USE: Apply a small amount of the cream to the breast skin, rub in gently. Use daily in the morning and in the evening.
ACTIVE INGREDIENTS: bioactive silicon, algae extract, Sabal extract, avocado oil, wheat germ oil, Shea oil, vitamin Е, allantoin, D-panthenol.
SAFETY: UNIQUE FORMULA "OLIGOTHERAPY 0%" is free from parabens, vaseline, essential oils, propylene glycol, phthalates, gluten, substances derived from genetically modified cultures.
PARABEN-FREE FORMULA
HYPOALLERGENIC AROMATIC COMPOSITION
IDEAL DAILY CARE
Packaging: tube 125 ml
Art. # 271.00