Dr RETTER® Si.1. SILLICUM MULTIACTIVE ANTI-STRETCH MARK BODY OIL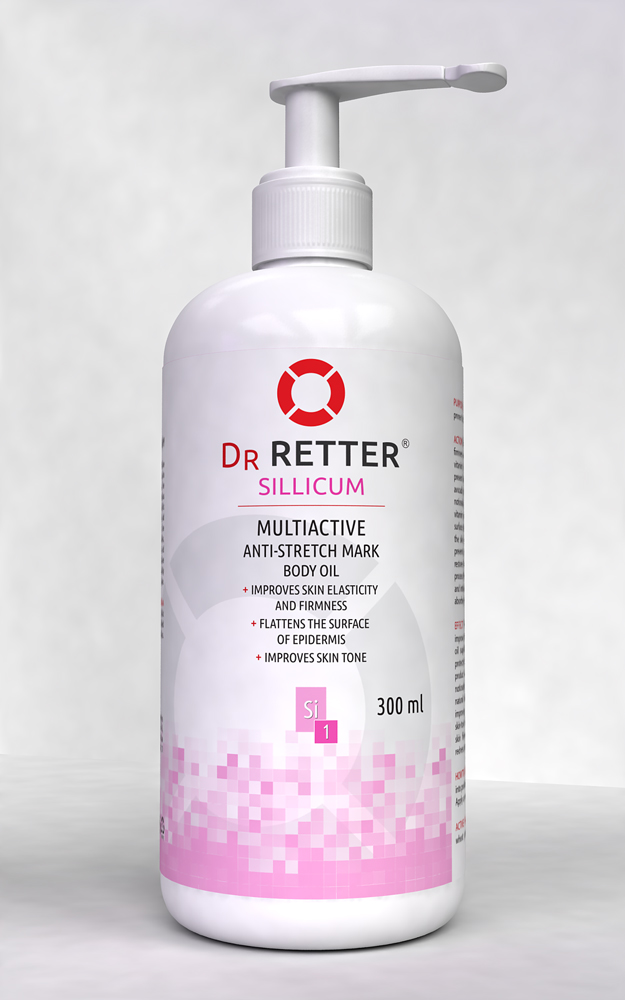 + IMPROVES SKIN ELASTICITY AND FIRMNESS
+ FLATTENS THE SURFACE OF EPIDERMIS
+ IMPROVES SKIN TONE
PURPOSE: Use the multiactive oil for daily care for all skin types prone to stretch marks, cellulite and hyperpigmentation.
ACTION: The multiactive oil delivers perfect care to skin that has lost firmness and elasticity. A synergetic combination of plant oils with vitamins А and Е effectively reduce existing stretch marks and prevent further formation with continued use. Sea-buckthorn and avocado oils even out the skin tone, making stretch marks less noticeable, restore the epidermis and saturate it with valuable vitamins and nutrients. Almond oil delicately smooths the skin surface, strengthens its structure and delivers optimal care, making the skin look healthy and beautiful again. Moroccan argan oil prevents premature ageing, enriches the epidermis with lipids, restores the natural hydrolipidic film and boosts the regeneration process. Wheat germ oil effectively calms irritation and inflammation and intensively strengthens the skin. This multiactive oil is quickly absorbed and leaves no oily residue.
EFFECT: The synergetic combination of natural oils effectively improves the skin condition, softens and soothes. This multiactive oil superbly moisturises and nourishes the skin, forming a protective barrier which prevents over-drying, on the surface. This product evens out the skin tone, making stretch marks less noticeable, regenerates and nourishes the epidermis. The active natural oils prevent premature skin ageing, soften the skin, improving the overall condition of the epidermis and making skin-tone healthy and uniform again. The multiactive oil improves skin firmness and elasticity, eliminates redness and irritation.
HOW TO USE: Rub a small amount of the oil into problematic areas. Apply as necessary.
ACTIVE INGREDIENTS: sweet almond oil, wheat germ oil, avocado oil, argan oil, sea-buckthorn oil, rape oil, lavender oil.
SAFETY: UNIQUE FORMULA "OLIGOTHERAPY 0%" is free from preservatives, parabens, vaseline, essential oils, propylene glycol, synthetic colorants, phthalates, gluten and substances derived from genetically modified cultures.
PRESERVATIVE-FREE FORMULA
HYPOALLERGENIC AROMATIC COMPOSITION
IDEAL DAILY CARE
Packaging: bottle 300 ml
Art. # 270.00