Dr RETTER® P.2. CAPILLARIO ANTI-CAPILLARY REGENERATING NIGHT CREAM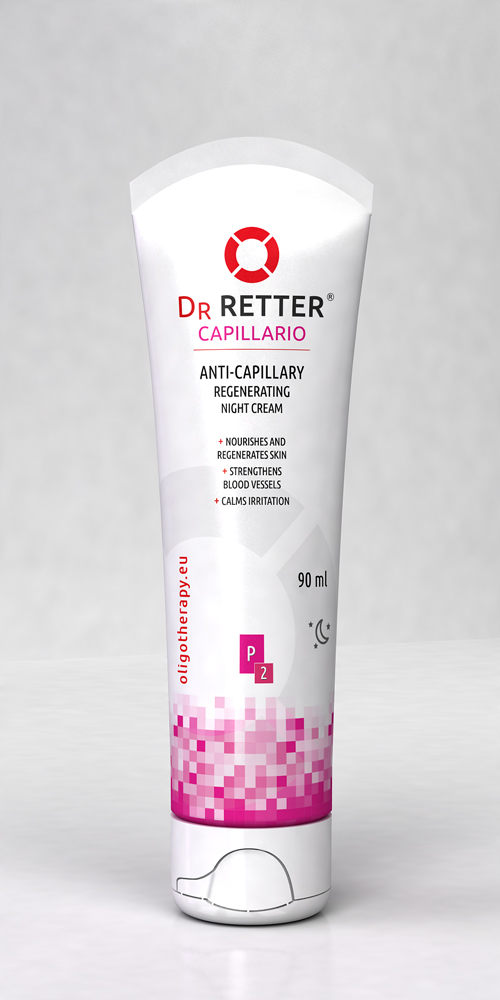 + STRENGTHENS BLOOD VESSELS
+ CALMS IRRITATION
+ NOURISHES AND REGENERATES SKIN
PURPOSE: Use the cream for daily care of sensitive, vascular skin with fragile, dilated capillaries, prone to erythema and irritation. Ideally suits dry, dehydrated skin, devoid of elasticity.
ACTION: This intensive night cream delivers excellent care for tender and sensitive, vascular skin. This gel is quickly absorbed, leaving no oily residue. A high concentration of bioflavonoids (isoquercetin) and 5 herbal extracts provides effective relief of erythema, narrowing dilated blood vessels, strengthening them and activating microcirculation. Cocoa butter evens skin tone, revitalises and regenerates the skin. Nourishing cottonseed oil gently smooths the epidermis, softening D-panthenol and soothing allantoin actively eliminate irritation and inflammation. Vitamin E – «vitamin of youth» – protects the skin from premature aging.
EFFECT: The intensive night cream wonderfully nourishes and strengthens vascular skin, eliminates the cause of hyper-dryness and flaking. The synergetic combination of bioactive vitamin Р (isoquercetin) with chestnut extract containing β-escin improves the resistance of capillaries, eradicates puffiness, and makes the skin firmer and more elastic. The nutritive cream formula maintains the optimum lipid level of the epidermis and facilitates smoothing. This intensive night cream comprehensively moisturises and revitalises the skin, returning it to its healthy tone.
HOW TO USE: Apply a small amount of the cream to clean face and décolletage, rub in gently. Use every evening.
ACTIVE INGREDIENTS: bioactive vitamin Р (isoquercetin), chestnut extract, aloe extract, lemon extract, chamomile extract, Centella asiatica extract, cocoa butter, avocado oil, cottonseed oil, vitamin Е, allantoin, D-panthenol.
SAFETY: UNIQUE FORMULA "OLIGOTHERAPY 0%" is free from preservatives, parabens, vaseline, essential oils, propylene glycol, synthetic colorants, phthalates, gluten, substances derived from genetically modified cultures.
PRESERVATIVE-FREE FORMULA
HYPOALLERGENIC AROMATIC COMPOSITION
IDEAL DAILY CARE
Packaging: tube 90 ml
Art. # 269.00