Dr RETTER® Mg.5. SENSITIUM CLEANSING MICELLAR WATER 2-IN-1 FOR THE DAILY CARE OF DRY AND SENSITIVE SKIN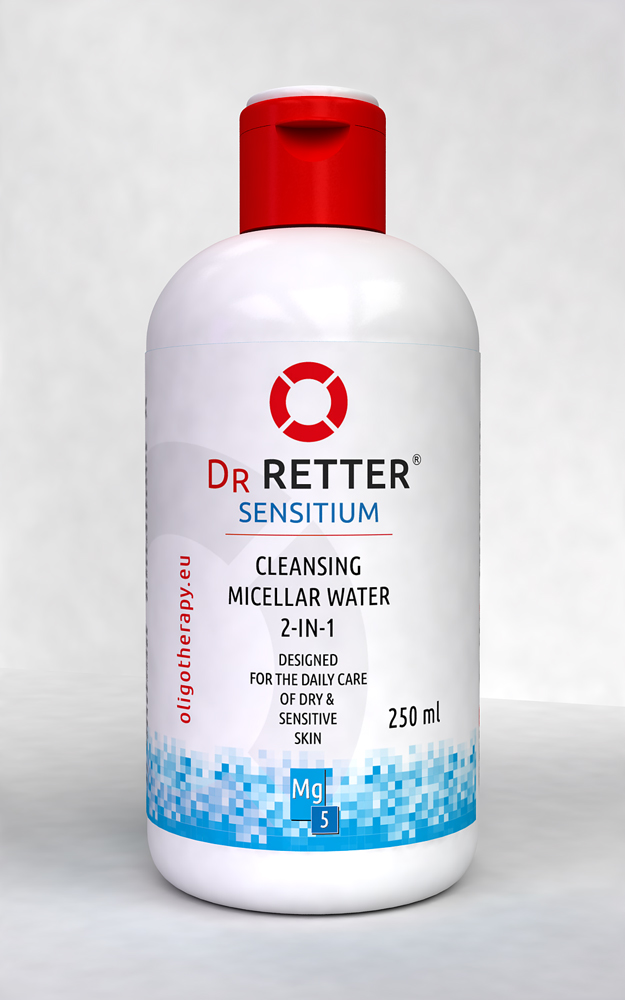 + DELICATELY REMOVES MAKEUP
+ REFRESHES AND MOISTURISES
PURPOSE: Use the micellar cleansing water for daily care of any skin type, especially for sensitive, hyperactive, allergy-prone skin.
ACTION: This micellar water delivers effective care for tender, sensitive skin prone to allergy and irritation. The product ideally cleanses skin from dirt, makeup and dead skin cells. The "Allergy-stop" complex improves overall skin condition, strengthens it and makes it less sensitive to external factors, eliminates irritation, inflammation and provides relief from burning and itching. Bioactive magnesium combined with hyaluronic acid effectively hydrates the epidermis and restores the natural hydrolipid barrier which protects skin from over-drying. Herbal aloe and chamomile extracts relieve erythema, improve firmness and elasticity. The lotion neither over-dries nor leaves the skin feeling tight, perfectly refreshes and tones the epidermis.
EFFECT: This lotion effectively cleanses and optimally cares for hypersensitive and allergy-prone skin, does not leave the skin feeling overdry and tight. Active ingredients included in this active formula cleanse the epidermis from dirt, makeup, and optimally hydrate the skin. The lotion is rich in soothing ingredients which effectively reduce irritation, relieve erythema and improve the overall condition of the skin. This light cleanser does not damage the natural protective skin layer, whilst the neutral рН level facilitates restoration of the epidermal hydro-lipid barrier.
HOW TO USE: Apply a small amount of the product to a cosmetic cleansing pad, wipe your face gently. Use daily, morning and evening.
ACTIVE INGREDIENTS: bioactive magnesium, aloe extract, chamomile extract, hyaluronic acid, allantoin, D-panthenol.
SAFETY: UNIQUE FORMULA "OLIGOTHERAPY 0%" is free from parabens, vaseline, essential oils, propylene glycol, synthetic colorants, phthalates, gluten, substances derived from genetically modified cultures.
PARABEN-FREE FORMULA
HYPOALLERGINIC AROMATIC COMPOSITION
IDEAL DAILY CARE
Packaging: bottle 250 ml
Art. # 267.00