Dr RETTER® Mg.3. SENSITIUM MOISTURISING CREAM FOR SENSITIVE EYE AREAS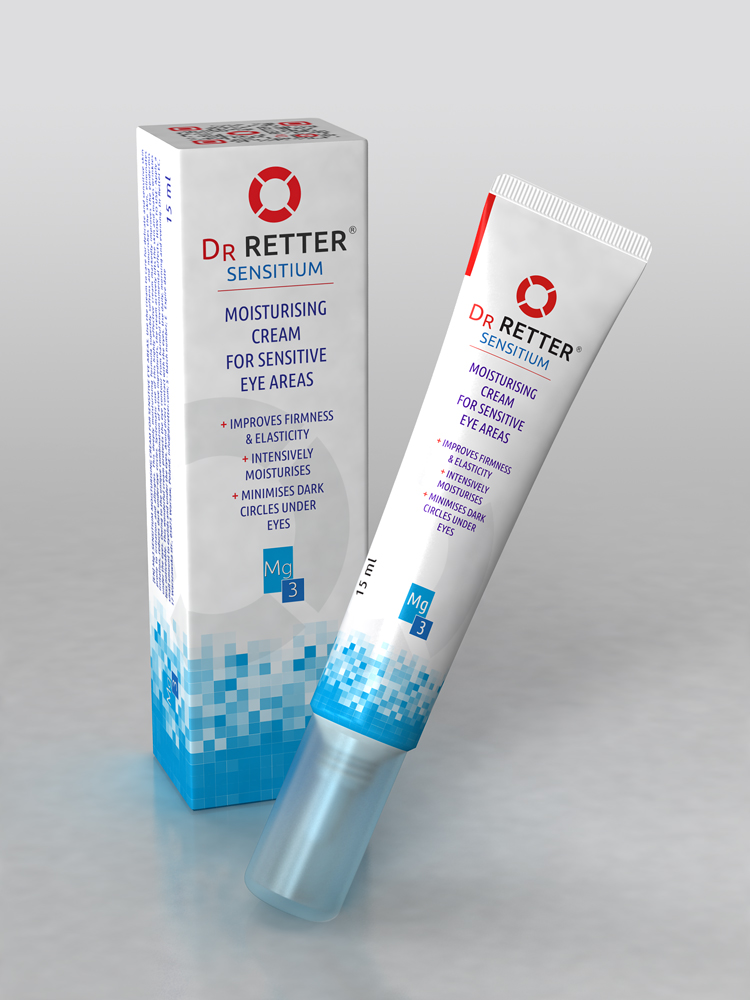 + IMPROVES FIRMNESS AND ELASTICITY
+ INTENSIVELY MOISTURISES
+ MINIMISES DARK CIRCLES UNDER EYES
PURPOSE: Use the cream to care for delicate and sensitive skin prone to irritation and allergies.
ACTION: This cream is designed specially to help allergy-prone skin, typically irritated by standard active skin care formulas. The product contains a highly effective complex, which exerts lasting moisturisation and intensively reduces epidermal hypersensitivity to external factors. Hyaluronic acid improves firmness and elasticity of the delicate skin under the eyes, whilst producing a lifting effect. Bioactive magnesium effectively regenerates the epidermis and improves resistance to irritation. Extremely valuable avocado oil improves biomimetic properties, nourishes and regenerates the epidermis, being a source of 7 vitamins. The cream softens and revitalises the skin, makes it smooth, prevents irritation, relieves inflammation.
EFFECT: This deeply moisturising formula superbly softens and nourishes the skin, eliminates irritation, reduces dark under-eye circles. Systematic use of this highly-effective cream markedly improves the epidermis under the eyes. Owing to the unique combination of active ingredients, the cream actively lifts the skin and makes wrinkles less noticeable. This wonderful cream protects the eye contour from harmful environmental effects.
HOW TO USE: Apply a small amount to eyelids and under the eyes. Avoid direct contact with the eyes. Use daily, morning and evening.
ACTIVE INGREDIENTS: bioactive magnesium, lipoamino acids, white lily extract, hyaluronic acid, avocado oil, Shea butter, cocoa butter, D-panthenol, allantoin, vitamin E.
SAFETY: UNIQUE FORMULA "OLIGOTHERAPY 0%" is free from preservatives, parabens, vaseline, essential oils, propylene glycol, synthetic colorants, phthalates, gluten, substances derived from genetically modified cultures.
PRESERVATIVE-FREE FORMULA
HYPOALLERGINIC AROMATIC COMPOSITION
IDEAL DAILY CARE
Packaging: tube 15 ml
Art. # 265.00