Dr RETTER® Mg.2. SENSITIUM NOURISHING NIGHT CREAM FOR SENSITIVE SKIN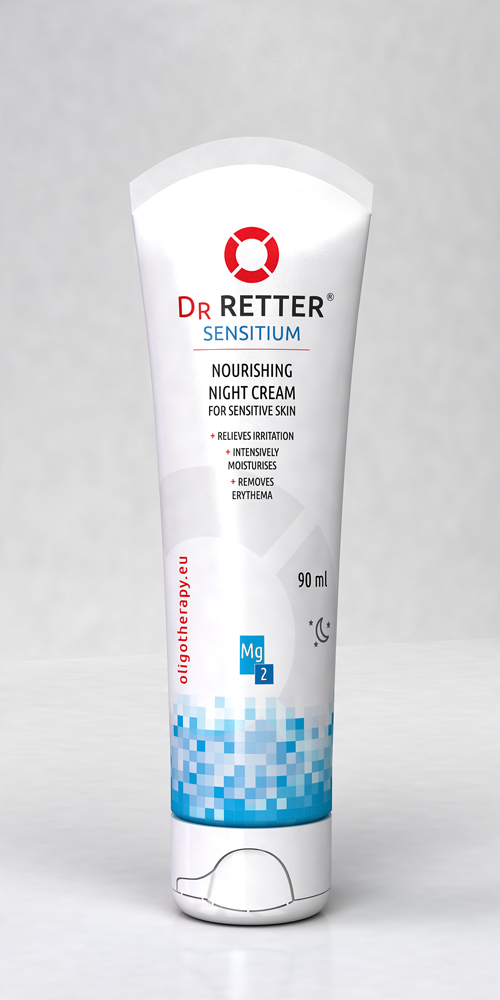 + RELIEVES IRRITATION
+ INTENSIVELY MOISTURISES
+ REMOVES ERYTHEMA
PURPOSE: Use the product to care for sensitive, hyperactive skin prone to irritation and allergies.
ACTION: This cream effectively eliminates the most common problems of sensitive skin types, prone to allergies, redness and irritation. Due to the high content of soothing active ingredients, the product intensively reduces skin hypersensitivity to external factors: temperature variation and ultraviolet radiation. Lipoamino acids combined with oligosaccharides help to eliminate inflammation, whilst the patented strengthening complex "allergy-stop" eliminates irritation, burning and itching. Wheat germ oil, containing a large quantity of vitamin Е, compensates for lack of lipids, strengthens and nourishes the skin. Bioactive magnesium boosts hydration and regeneration of the epidermis, protects from harmful environmental effects. Alpha-glucan stimulates growth of beneficial microflora providing reliable probiotic protection for the skin. The cream is quickly absorbed and has a pleasant fragrance.
EFFECT: The gentle cream formula is designed specially for active skin regeneration during sleep. The product effectively relieves irritation and inflammation, reduces tightness, burning and itching. The active ingredients of the cream supply intensive nutrition to skin, restore its lipid balance and proper moisture content. If used systematically, this cream effectively reduces erythema, strengthens natural immuno-response and restores the protective function of the epidermis. This cream makes your skin healthy, less sensitive to irritation and allergies and takes excellent care of your skin.
HOW TO USE: Apply a small amount of the cream to clean skin, rub in gently. Use every evening.
ACTIVE INGREDIENTS: bioactive magnesium, lipoamino acids, inulin, alpha-glucan, white lily extract, Shea butter, wheat germ oil, D-panthenol, allantoin, vitamin E.
SAFETY: UNIQUE FORMULA "OLIGOTHERAPY 0%" is free from preservatives, parabens, vaseline, essential oils, propylene glycol, synthetic colorants, phthalates, gluten, substances derived from genetically modified cultures.
PRESERVATIVE-FREE FORMULA
HYPOALLERGINIC AROMATIC COMPOSITION
IDEAL DAILY CARE
Packaging: tube 90 ml
Art. # 264.00