Dr RETTER® Mg.1. SENSITIUM DAY CREAM FOR SENSITIVE SKIN WITH UVA/UVB FILTER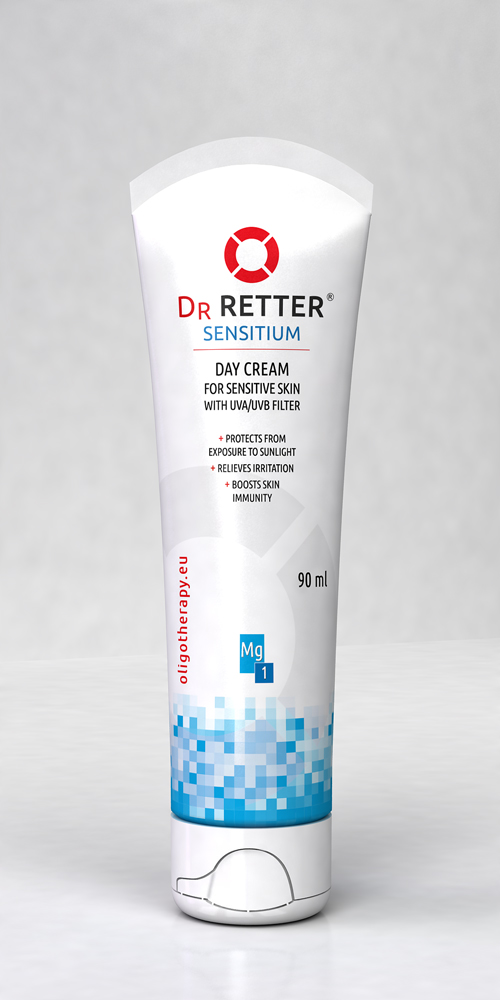 + PROTECTS FROM EXPOSURE TO SUNLIGHT
+ RELIEVES IRRITATION
+ BOOSTS SKIN IMMUNITY
PURPOSE: Use the product to care for sensitive, hyperactive skin prone to irritation and allergies.
ACTION: This cream effectively eliminates the most common problems of sensitive skin prone to allergies, redness and irritation. All the product ingredients are carefully selected to ensure safety and maximum effectiveness. D-panthenol and allantoin relieve irritation, make erythema less visible and optimally moisturise skin. A combination of bioactive magnesium and yeast extract of the unique cream formula optimises the regeneration process in the epidermis. Lipoamino acids and white lily extract strengthen the skin and increase effectiveness of the natural hydrolipid barrier. A high lipid content in the cream helps to quickly eliminate skin flaking, promotes lasting nutrition, regeneration and velvety smoothness.
EFFECT: The cream relieves tightness, burning and itching. Due to the high content of soothing active ingredients, it intensively reduces skin hypersensitivity to external factors: temperature variation and ultraviolet radiation. Sunlight filters and vitamin E ideally protect skin from the impact of free radicals which accelerate skin ageing. The cream mitigates the risk of irritation and allergic response, soothes, regenerates and returns natural beauty to the skin.
HOW TO USE: Apply a small amount of the cream to clean facial skin, rub in gently. Use every morning.
ACTIVE INGREDIENTS: biocative magnesium, lipoamino acids, white lily extract, inulin, alpha-glucan, Shea butter, cocoa butter, avocado oil, hyaluronic acid, D-panthenol, allantoin, vitamin E.
SAFETY: UNIQUE FORMULA "OLIGOTHERAPY 0%" is free from preservatives, parabens, vaseline, essential oils, propylene glycol, synthetic colorants, phthalates, gluten, substances derived from genetically modified cultures.
PRESERVATIVE-FREE FORMULA
HYPOALLERGINIC AROMATIC COMPOSITION
IDEAL DAILY CARE
Packaging: tube 90 ml
Art. # 263.00