Dr RETTER® JR.2 JUNIOR PROTECTIVE CREAM WITH A HIGH LANOLIN CONTENT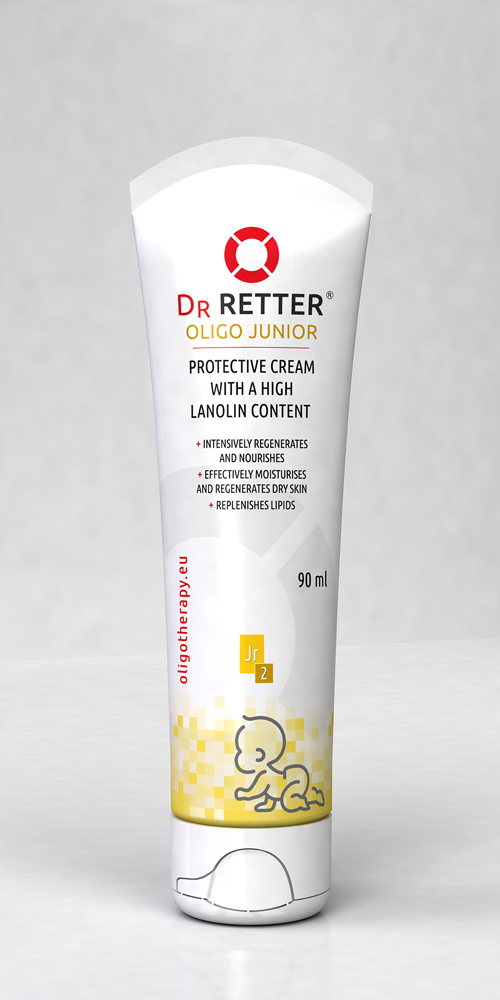 Protective ointment intended for the care of sensitive and dry skin. Moisturises, lubricates and increases the elasticity of the skin, reducing irritation. The ointment balances the lipid levels in the skin, creating a protective barrier, effectively protecting against dryness and regenerates the epidermis.
The product is intended for the daily care of dry and irritated skin of both children and adults.
– effectively moisturises and regenerates dry skin
– lubricates and increases elasticity
– soothes irritation
– replenishes lipids in the skin, rebuilds the protective barrier
– intensively regenerates and nourishes
Allantoin, panthenol and camomile soothe irritation and moisturise the skin;
Lanolin moisturises the skin, creating an occlusive layer that prevents excessive water loss
Sweet almond and wheat germ oils nourish the skin and increase elasticity,
Beeswax supports skin reconstruction and firmness;
Vitamins A and E smooth and lubricate the skin
Ceramides regenerate and restore lipid balance.
Usage: Apply gently to clean, dry skin. Use depending on your needs.
Packaging: tube 90 ml
Art. # 510.00
Bar Code:  590241445186