Dr RETTER® I.2. INTIMIUM MOISTURISING INTIMATE GEL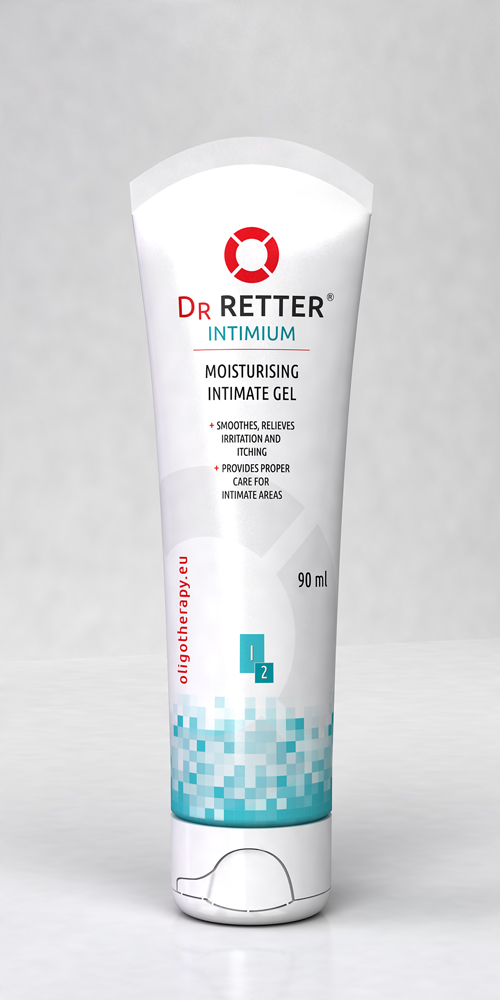 + SMOOTHES AND RELIEVES IRRITATION
+ PROVIDES PROPER CARE FOR INTIMATE AREAS
+ RELIEVES ITCHING AND IRRITATION
PURPOSE: Use the moisturising intimate gel with active prebiotic formula for intensive care and protection of intimate areas and inner thighs prone to irritation and friction.
ACTION: This moisturising intimate gel contains the innovative formula "PROBIOTIC CONTROL SYSTEM" which maintains the optimal condition of the bacterial flora of external genitalia, delivers proper care for sensitive and delicate skin and improves the epidermal resistance of the inner thighs to micro-damage. The product contains smoothing aloe and chamomile extracts, which prevents irritation and stimulates the regeneration process in the epidermis. The gel maintains the physiological pH level of intimate areas. Allantoin and D-panthenol perfectly relieve itching and burning. The product is quickly absorbed and has a neutral pH level to skin.
EFFECT: Owing to its active prebiotic formula, this moisturising intimate gel effectively eases irritation, relieves itching and burning. It also reduces discomfort and leaves you feeling fresh.
HOW TO USE: apply a moderate amount of the gel to clean skin. Apply 2 – 3 times a day as and when needed.
ACTIVE INGREDIENTS: prebiotic control system, aloe extract, chamomile extract, allantoin, D-panthenol.
SAFETY: UNIQUE FORMULA "OLIGOTHERAPY 0%" is free from parabens, vaseline, essential oils, propylene glycol, synthetic colorants, phthalates, gluten, substances derived from genetically modified cultures.
PARABEN-FREE FORMULA
HYPOALLERGENIC AROMATIC COMPOSITION
IDEAL DAILY CARE
Packaging: tube 90 ml
Art. # 290.00