Dr RETTER® Hi.3. HIALUREN REJUVENATING SERUM WITH HYALURONIC ACID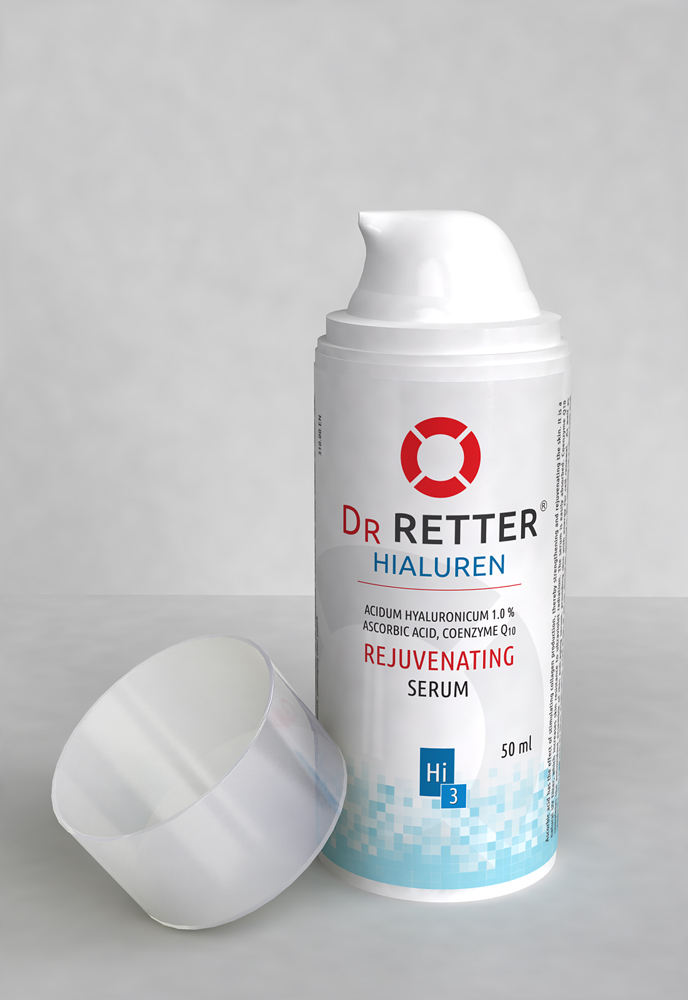 Cosmetic serum for intensive care of face and neck. The active serum components provide deep moisturisation, lifting of the surface and facial wrinkles, protection against aggressive external influences – solar ultraviolet radiation, air pollution and tap water. The serum also contains ginkgo biloba leaf extract, ascorbic acid, coenzyme Q10 (ubiquinone) – a complex of high-level antioxidants that support youth and health of the skin.
This serum is an intensive treatment to care for skin with signs of fatigue and aging. Since it doesn't contain components which harm the skin and alter its metabolism (hormones, prohormones, growth factors, immunomodulators), it can be used at any age to normalize skin moisturizing, for anti-aging care and protection from external negative influences.
Hyaluronic acid is a naturally occurring substance, a structural component of body tissue, a part of the natural moisturizing factor and hydrates the skin. With age, the level of hyaluronic acid in the skin decreases. However, with the help of this serum it is possible to partially reduce this deficit. The mechanism of the anti-aging action of hyaluronic acid is to fill the space under a wrinkle; it is gradually plumped and smoothed. Since the substance is of natural origin, the serum is well tolerated by the skin.
Ginkgo biloba is one of the strongest natural antioxidants due to its high content of flavonoids. It improves the metabolism in skin cells, stimulates blood flow and has an anti-edematous effect (reduces water retention). As an antioxidant, it prevents free radical oxidation of cellular lipids, protecting cells from aging and death, prolonging their youth
Ascorbic acid has the effect of stimulating collagen production, thereby strengthening and rejuvenating the skin. It is a natural UV filter, which increases skin resistance to ultraviolet radiation. The serum is easily absorbed.
Coenzyme Q10 completes the antioxidant ensemble of this anti-aging serum, providing skin with energy for cell renewal.  As well as vitamin C, it is a natural UV filter.
Application: a few drops of serum should be applied in the morning to a clean face and neck and should be evenly distributed. Use for one month, then have two months break from use.  Avoid eye area and contact with the eyes.
Packaging: airless 50 ml
Art. # 310.00