Dr RETTER® Hi.2. HIALUREN HIALUREN COMPLEX REGENERATING ANTI-AGING GEL [HYALURONIC ACID, VITAMIN С AND SNAIL SECRETION FILTRATE] / [12+10+7 mg/g]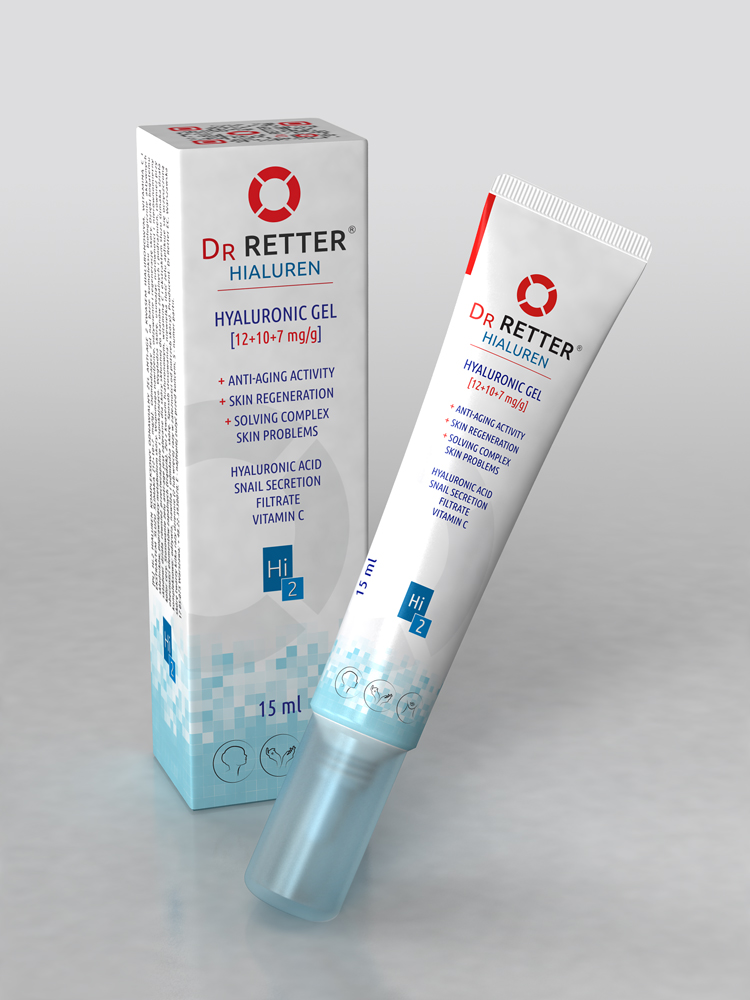 This rejuvenating gel with a complex of biologically active components, improves skin metabolism. It moisturises, nourishes and regenerates the skin. Owing to its enriched formula, the gel also has an anti-inflammatory, smoothing and softening effect, restores an even complexion and increases suppleness of the skin. This anti-aging gel can even be applied to skin susceptible to inflammation, irritation and acne.
Containing hyaluronic acid, vitamin С and snail mucus filtrate, this gel has a complex multi-action effect. It nourishes, moisturises and regenerates the skin.
HYALURONIC ACID provides deep skin moisturisation, as well as firming and lifting the skin. It primarily balances the skin's metabolism and restores the physiological moisture level, internally stimulating inner hyaluronic acid synthesis processes.
VITAMIN С protects cells from oxidation, intensifies biological reactions and promotes better cell nourishment.
SNAIL SECRETION FILTRATE promotes and intensifies the above effects, since it has antioxidant, anti-inflammatory, regenerating and strengthening properties. The mucus contains a complex of rejuvenating and regenerating biologically active substances such as collagen, elastin, mucopolysaccharides, growth factors and cytokines.
This product is free from fragrance, parabens, mineral oils, artificial colours, phthalates, gluten and GMOs. This gel is suitable for sensitive skin susceptible to irritation and inflammation.
HOW TO USE: apply a small amount to clean skin at least twice daily
Packaging: tube 15 ml
Art. # 281.00