Dr RETTER® Hi.1. HIALUREN HYALURONIC ACID 1.0% GEL FOR PROFESSIONAL USE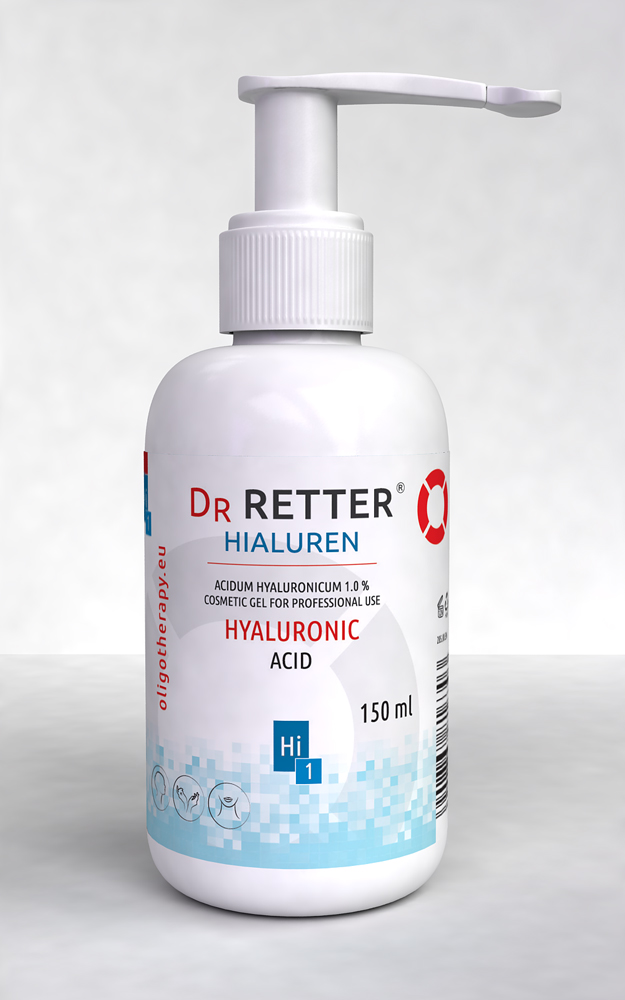 This is a professional hydrating product, which contains stabilised hyaluronic acid in a thin clear gel.
Effectively helps to minimise fine lines, wrinkles, dark circles and puffiness under the eyes.
Properties of Hyaluronic acid (HA):
HA is an important structural element of the skin, a polysaccharide found in the extracellular matrix of connective tissue. This ingredient helps to maintain the normal water balance in skin cells and significantly reduces the level of trans-epidermal water loss. It has intensive moisturising properties, regenerates the skin, is both anti-viral and antibacterial and has anti-inflammatory properties.
HA has a high penetrating power and is completely biocompatible. It intensively softens, moisturises and protects the skin from environmental factors and makes the skin supple, smooth and soft. It increases the hydration level of the stratum corneum, relieves skin tightness, reduces and prevents wrinkles and helps eliminate flakey skin.
Hyaluronic acid is essential for the regeneration and restoration of healthy skin after damage associated with skin exposure to laser radiation, the effect of various medications or surgery. It moisturises and repairs skin exposed to sun and UV light.
Usage: for best results use morning and night. Apply 3-5 drops to your fingertips and gently pat into the skin, neck and let it dry. This product forms a thin protective layer, which prevents excessive moisture loss and increases the hydration levels of the skin.
Caution: Keep out of reach of children. Avoid contact with eyes. If irritation, redness or discomfort occurs, discontinue use. For external use only. Please store in a cool, dark place.
Packaging: bottle 150 ml
Art. # 285.00