Dr RETTER® H.4. HAIRUM INTENSIVE REGENERATING HAIR BALM – CONDITIONER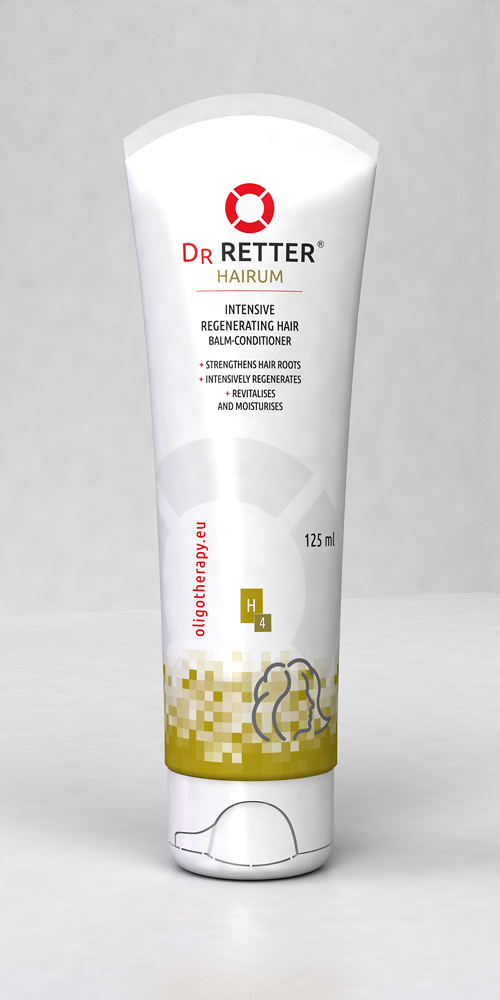 + STRENGTHENS HAIR ROOTS
+ INTENSIVELY REGENERATES
+ REVITALISES AND MOISTURISES
PURPOSE: This balm intensively restores the structure of any hair type, including dry, damaged, dyed, and weak hair.
ACTION: This intensive regenerating balm delivers perfect hair care, making hair manageable again. Provitamin B5 provides excellent and effective moisturisation from root to tip, whilst biotin, vitamins PP and B6 prevent hair loss, preserving hair thickness and volume. Wheat proteins splendidly smooth and strengthen hair, making it especially resistant to micro-damage such as heat styling. This rich balm rescues hair through intensive regeneration and revitalisation, strengthening and conditioning the hair shaft, returning your hair to its former brilliance and beauty.
EFFECT: This innovative balm formula delivers proper hair moisturisation and intensive regeneration. It improves manageability and strengthens hair from root to tip. The balm perfectly protects hair from mechanical damage during styling. It makes hair soft and silky, healthy, shiny, and regenerated. This delicate formula improves hair condition effectively, without causing build-up. This nourishing, smoothing balm will make your hair beautiful and healthy, every day.
HOW TO USE: Apply a small amount of the balm to wet hair, leave for 1 minute or longer for very dry hair. Thoroughly rinse with water. Use as often as is necessary.
ACTIVE INGREDIENTS: yeast extract, biotin, hydrolysed wheat proteins, vitamin PP, vitamin B6, provitamin B5, glucosamine, zinc PCA.
SAFETY: UNIQUE FORMULA "OLIGOTHERAPY 0%" is free from parabens, vaseline, essential oils, propylene glycol, synthetic colorants, phthalates, gluten, substances derived from genetically modified cultures.
PARABEN-FREE FORMULA
HYPOALLERGENIC AROMATIC COMPOSITION
IDEAL DAILY CARE
Packaging: tube 125 ml
Art. # 260.00