Dr RETTER® H.3. HAIRUM NORMALISING SOOTHING SHAMPOO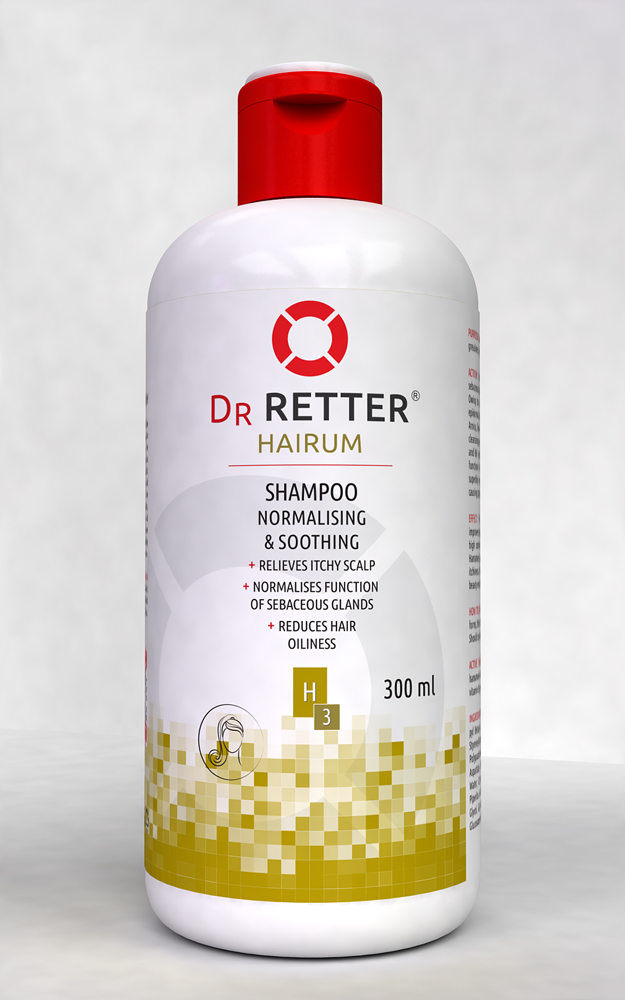 + RELIEVES ITCHY SCALP
+ NORMALISES FUNCTION OF SEBACEOUS GLANDS
+ REDUCES HAIR OILINESS
PURPOSE: Use this shampoo for daily care of any type of hair, prone to greasiness. Relieves itchy scalp.
ACTION: This normalising shampoo effectively controls the function of sebaceous glands, reduces hair greasiness and calms itchiness and irritation. Owing to a high content of herbal extracts, this effective formula restores epidermal microflora balance, strengthens, revitalises and regenerates hair. Arnica, lemon and hamamelis extracts tone and refresh the scalp, effectively cleansing and caring for it. The synergetic combination of biotin, vitamins PP and B6 prevents hair loss, strengthens hair structure and normalises the function of sebaceous glands. The active herbal ingredients of the shampoo superbly strengthen and regenerate hair, making it soft and silky without causing product build-up.
EFFECT: This normalising shampoo expertly cleanses hair, volumises and improves manageability. The hair condition improves, oiliness is reduced. A high content of provitamin B5, makes your hair soft, tender and silky. Hamamelis and yeast extracts effectively tone and refresh the scalp, relieving itchiness. This normalising shampoo restores your hair to its former natural beauty even after the first use.
HOW TO USE: Apply a small amount to wet hair, gently massage until foam forms, then rinse thoroughly with water. Repeat if necessary. Avoid eye contact. Should contact with the eyes occur, rinse thoroughly with warm water. Use daily.
ACTIVE INGREDIENTS: lemon extract, peppermint extract, arnica extract, hamamelis extract, yeast extract, biotin, hydrolysed wheat proteins, vitamin PP, vitamin  B6, provitamin B5, glucosamine, zinc PCA.
SAFETY: UNIQUE FORMULA "OLIGOTHERAPY 0%" is free from parabens, vaseline, essential oils, phthalates, gluten, substances derived from genetically modified cultures.
PARABEN-FREE FORMULA
HYPOALLERGENIC AROMATIC COMPOSITION
IDEAL DAILY CARE
Packaging: bottle 300 ml
Art. # 259.00