Dr RETTER® H.1. HAIRUM STIMULATING ANTI-HAIR LOSS SHAMPOO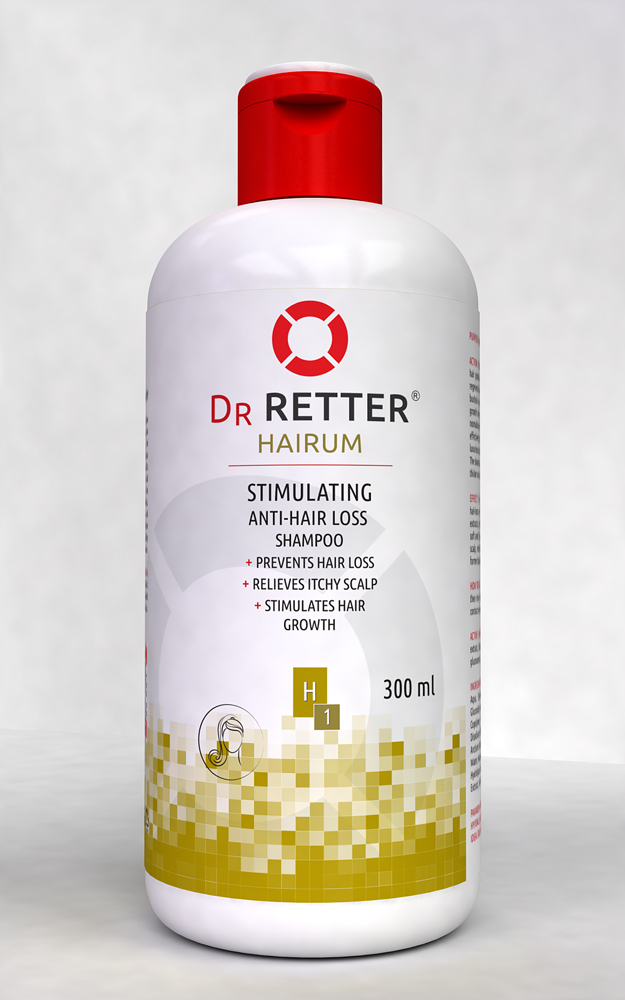 + PREVENTS HAIR LOSS
+ RELIEVES ITCHY SCALP
+ STIMULATES HAIR GROWTH
PURPOSE: Use this shampoo for daily care of weak, thinning hair.
ACTION: This highly concentrated formula effectively prevents hair loss, stimulates hair growth and relieves itching. Herbal extracts with proven remedial effects regenerate and strengthen hair, giving it a healthy shine. The shampoo contains burdock extract which minimises the risk of hair loss and revives and accelerates hair growth due to scalp super-nutrition and oxygen supply. Biotin, vitamins PP and B6 normalise the function of sebaceous glands and ensure hair thickness. Wheat proteins effectively smooth and strengthen hair, improving resistance to micro-damage. This luxurious shampoo intensively cleanses the scalp, as well as making hair manageable. The shampoo returns a beautiful shine to your hair, leaving it looking healthy and thicker once more.
EFFECT: This shampoo is an excellent hair conditioner and volumiser, preventing hair-loss and stimulating growth. Owing to a high content of bioactive herbal extracts, the shampoo protects and nourishes. Provitamin B5 makes hair amazingly soft and silky and manageable. Hamamelis and yeast extracts tone and refresh the scalp, relieving itching. This stimulating formula restores your hair back to its former beauty from the first use.
HOW TO USE: Apply a small amount to wet hair, gently massage until foam forms, then rinse thoroughly with water. Repeat if necessary. Avoid eye contact. Should contact with the eyes occur, rinse thoroughly with warm water. Use daily.
ACTIVE INGREDIENTS: hamamelis extract, burdock extract, Sabal extract, yeast extract, biotin, hydrolysed wheat proteins, vitamin PP, vitamin  B6, provitamin B5, glucosamine, zinc PCA.
SAFETY:  "OLIGOTHERAPY 0%" UNIQUE FORMULA  is free from parabens, vaseline, essential oils, propylene glycol, synthetic colorants, phthalates, gluten, substances derived from genetically modified cultures.
PARABEN-FREE FORMULA
HYPOALLERGENIC AROMATIC COMPOSITION
IDEAL DAILY CARE
Packaging: bottle 300 ml
Art. # 257.00