Dr RETTER® Fe.1. ROSARIO CREAM FOR SKIN WITH ROSACEA (ACNE ERYTHEMATOSA)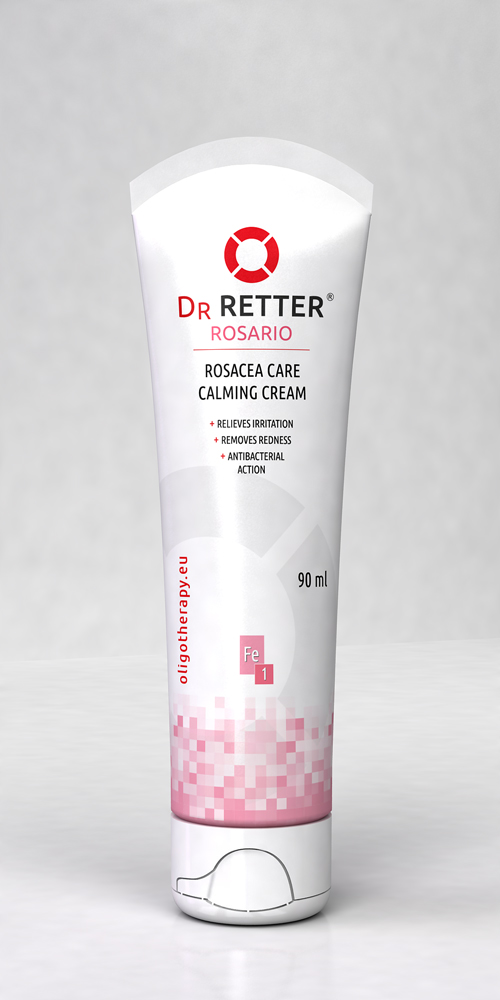 + REMOVES REDNESS
+ RELIEVES IRRITATION
+ ANTIBACTERIAL ACTION
PURPOSE: Use the cream for daily care of sensitive skin with rosacea, chronic or acute erythema, prone to irritation and redness.
ACTION: The cream effectively reduces redness. Its formula is enriched with nutritional ingredients, normalising the function of blood vessels and restoring the hydro-lipid balance of the skin. Bioactive ferrum and vitamin Р facilitate the regeneration process of the epidermis, soothing D-panthenol and softening allantoin effectively relieve irritation and inflammation. Piroctone olamine prevents appearance of papules and pimples, vitamin Е and sunlight filters protect the skin from harmful exposure to ultraviolet radiation. Due to extracts of lemon, algae and centella asiatica, persistent skin redness is relieved, and skin colour gradually evens. This cream considerably improves overall skin condition, effectively moisturises, softens and revitalises.
EFFECT: Delivers effective skin care, prevents erythema, improves epidermal micro-relief, relieves inflammation and irritation, superbly moisturises and protects from dehydration.  Improves function of capillaries, restores the hydro-lipid epidermal layer, nourishes and protects from harmful environmental effects. This formula softens the skin and returns a beautiful even skin tone.
HOW TO USE: Apply a small amount of the cream to cleansed skin, rub in gently. Use every morning.
ACTIVE INGREEDIENTS: bioactive iron, isoquercetin, piroctine olamine, sweet-almond oil, centella asiatica extract, algae extract, lemon extract, vitamin E, allantoin, D-panthenol.
SAFETY: UNIQUE FORMULA "OLIGOTHERAPY 0%" is free of parabens, vaseline, essential oils, propylene glycol, synthetic colorants, phthalates, gluten, substances derived from genetically modified cultures.
PRESERVATIVE-FREE FORMULA
HYPOALLERGENIC AROMATIC COMPOSITION
Packaging: tube 90 ml
Art. # 256.00