Dr RETTER® F.3 LIPIDIUM BARRIER CARE CREAM FOR ATOPIC SKIN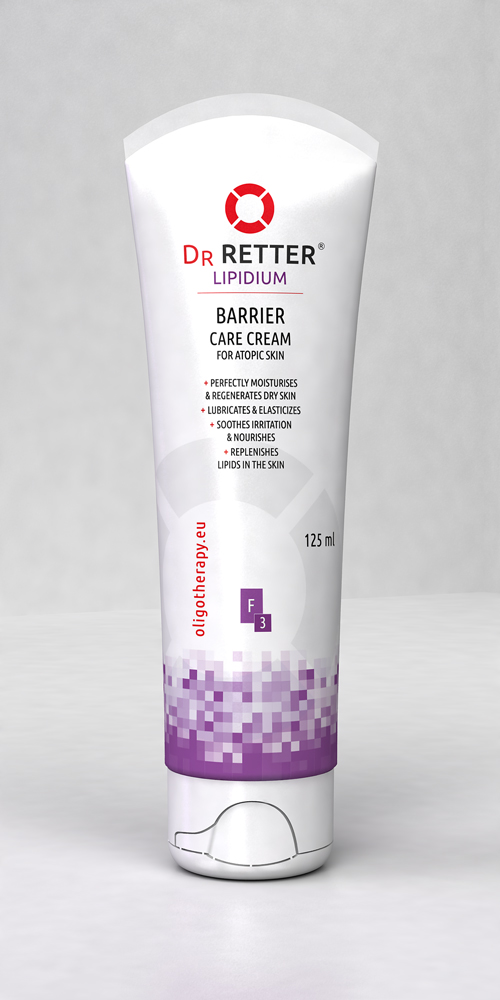 Body cream with ceramides that moisturises and lubricates dry skin, creating a protective barrier. It soothes the feeling of itchiness and irritation. It eliminates hypersensitivity and dryness, leaving the skin smooth, soft and elastic.
This product is intended for the daily care of very dry skin.
– perfectly moisturises and regenerates dry skin
– lubricates and elasticizes
– soothes irritation and nourishes
– replenishes lipids in the skin, rebuilds the protective barrier
Xylitol has a moisturizing effect and strengthens the skin's protective function.
High and low molecular weight hyaluronic acid effectively moisturises the epidermis and deeper layers of the skin.
Lanolin moisturises the skin, creating an occlusive layer that prevents excessive water loss.
Ceramides regenerate and restore lipid balance.
Beta glucan from oats soothes irritation and redness.
Usage: gently apply a small amount on clean, dry skin.
Packaging: tube 125 ml
Art. # 308.1.00