Dr RETTER® E.1. MELANNIUM ANTIHYPERPIGMENTATION LIGHTENING SERUM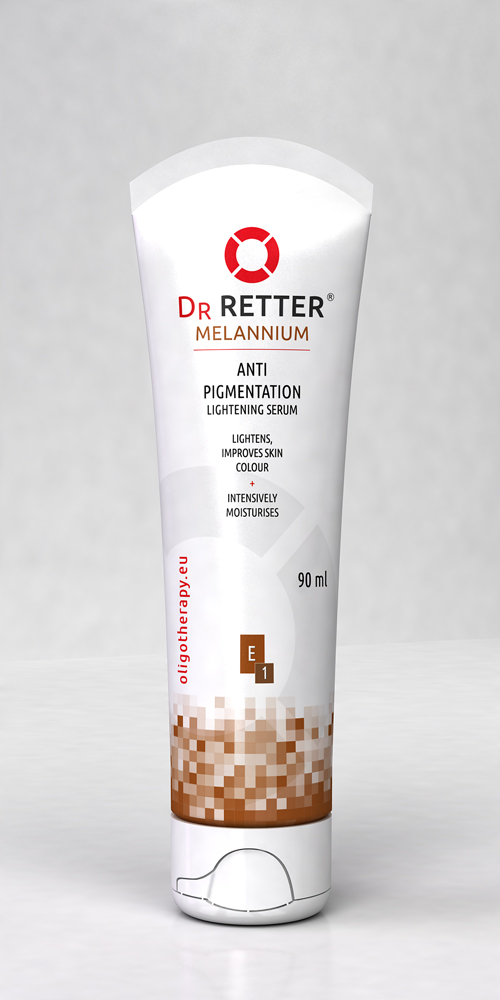 + LIGHTENS, IMPROVES SKIN COLOUR
+ INTENSIVELY MOISTURISES
PURPOSE: Use the serum daily for skin prone to hyperpigmentation. It can be applied to any area of the body.
ACTION: This lightening serum is a cosmeceutic aid which effectively removes epidermal hyperpigmentation and prevents further occurrence of pigmentation, evens the skin tone and leaves it looking healthy. The serum contains the active patented whitening formula, which eliminates skin hyperpigmentation induced by hormonal changes (chloasma), reaction to sunlight (freckles), or medications. Vitamins A and E protect the skin from the destructive effect of free radicals. Alpha-hydroxy acids delicately clean the skin, exfoliating keratinized cells, and effectively lighten pigment spots. Moroccan argan oil and Shea butter nourish, strengthen and regenerate the epidermis. As a result of systematic use of the serum, your skin is healthy, considerably clearer, velvety and smooth.
EFFECT: The serum effectively reduces skin hyperpigmentation, lightens and returns it to its natural beauty. The unique formula based on the innovative whitening ingredient, combined with vitamin Е and alpha-hydroxy acids of citrus fruits, markedly improves the condition of the epidermis and accelerates its regeneration. The synergetic combination of active ingredients decreases melanin production in the skin, boosts the regeneration process and prevents appearance of further pigmentation. The serum contains allantoin and D-panthenol relieving inflammation and irritation. If used systematically, the serum softens the skin and increases its elasticity.
HOW TO USE: Apply a small amount of the serum to the areas affected by hyperpigmentation. Use both morning and evening for a minimum of 8 weeks.
ACTIVE INGREDIENTS: vitamin E, vitamin A, argan oil, active whitening ingredient, alpha-hyroxy acids, D-panthenol, allantoin, Shea butter.
SAFETY: UNIQUE FORMULA "OLIGOTHERAPY 0%" is free from preservatives, parabens, vaseline, essential oils, propylene glycol, synthetic colorants, phthalates, gluten, substances derived from genetically modified cultures.
PRESERVATIVE-FREE FORMULA
HYPOALLERGENIC AROMATIC COMPOSITION
IDEAL DAILY CARE
Packaging: tube 90 ml
Art. # 253.00