Dr RETTER® Cu.3 SEBIO CLEANSING MICELLAR WATER 2-IN-1 DESIGNED FOR THE CARE OF OILY AND COMBINATION SKIN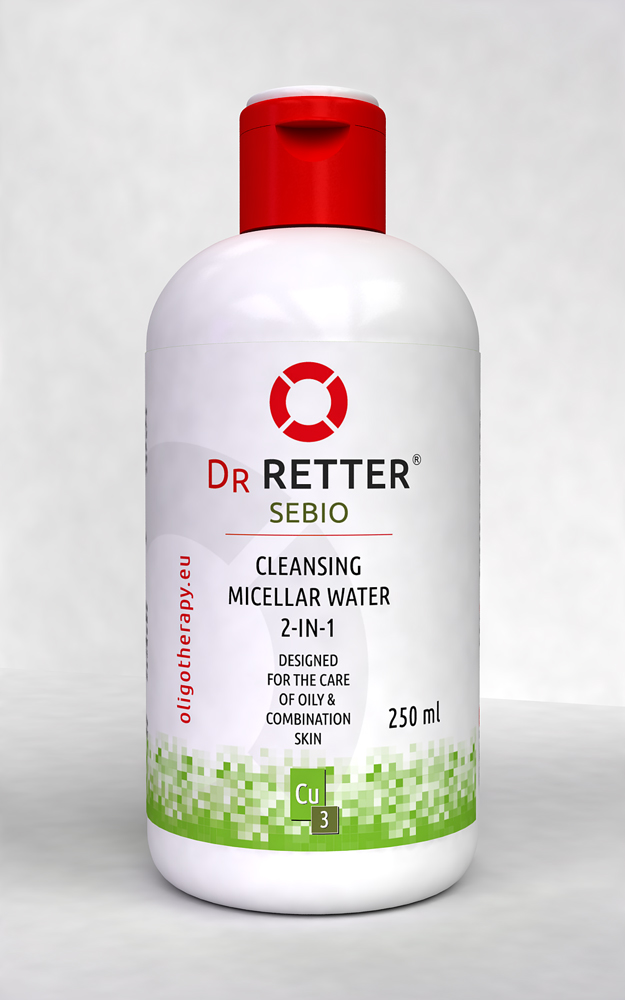 Used as a micellar liquid, it removes make-up and cleanses the skin, as a toner it has a refreshing, soothing and moisturising effect. This gentle, yet effective composition diminishes imperfections, normalises sebum secretion, leaving the skin clean and fresh. It has a tonifying effect, keeping the skin's pH levels balanced.
– gently yet effectively cleanses skin
– reduces imperfections
– unblocks and shrinks pores, reduces their visibility
– normalises the secretion of sebum, refreshes and reduces shine
– regenerates, nourishes and moisturises
Allantoin, panthenol and chamomile soothe irritation and moisturise, soothing the skin.
Oligo12* – The complex of minerals protects against free radicals and increases cellular respiration.
Witch hazel extract normalises the secretion of sebum and tightens the skin.
Aloe extract has an anti-bacterial and anti-inflammatory effect.
Lemon extract protects the skin against free radicals.
Usage: Morning and evening, apply a few drops to a cotton pad, and gently wipe the face and eye area. Avoid direct contact with the eyes.
Packaging: bottle 250 ml
Art. # 520.00