Dr RETTER® Cu.2. SEBIO NORMALISING MATTIFYING NIGHT CREAM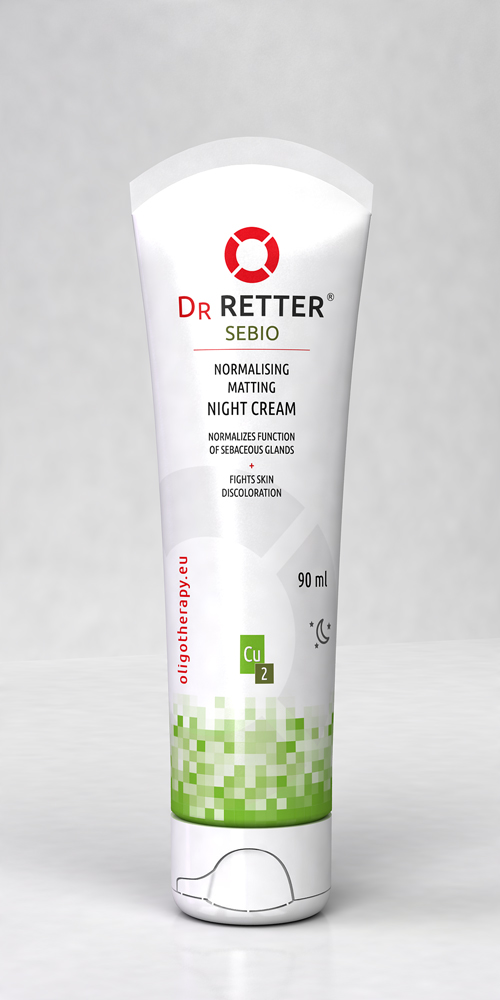 + NORMALISES THE FUNCTION OF SEBACEOUS GLANDS
+ FIGHTS SKIN DISCOLORATION
+ INTENSIVELY MOISTURISES
PURPOSE: Use this cream for the daily care of oily skin, prone to acne breakouts and discoloration.
ACTION: This normalising cream is a new generation product for the daily skin care of any age. Successfully fights skin defects, including white spots. Its active ingredients normalise the function of sebaceous glands, control sebum secretion and moisturise. The synergetic combination of bioactive copper and zinc salts shrinks pores and conceals acne scars. Plant extracts of lemon, iris and hamamelis improve the condition of the skin, reduce shine and prevent acne. Due to the high content of soothing allantoin and softening D-panthenol, this cream relieves irritation and inflammation.
EFFECT: This highly effective normalising cream delivers perfect care, smoothes the skin, minimises signs of acne breakouts. If used regularly, it restores the optimal hydration level both in deep and surface epidermal layers. Vitamins А and Е normalize the function of sebaceous glands, accelerate skin regeneration, making it firm and smooth. The cream is a perfect base for daily skin care, is quickly absorbed and leaves no oily residue.
HOW TO USE: Apply a small amount of the cream to clean skin, pat in gently. Use daily.
ACTIVE INGREDIENTS: bioactive copper, zinc salts, iris extract, hamamelis extract, aloe extract, lemon extract, rice oil, vitamin А, vitamin E, D-panthenol, allantoin.
SAFETY: UNIQUE FORMULA "OLIGOTHERAPY 0%" is free from preservatives, parabens, vaseline, essential oils, propylene glycol, synthetic colorants, phthalates, gluten, substances derived from genetically modified cultures.
PRESERVATIVE-FREE FORMULA
HYPOALLERGENIC AROMATIC COMPOSITION
IDEAL DAILY SKIN CARE
Packaging: tube 90 ml
Art. # 252.00