Dr RETTER® Cu.1. SEBIO MOISTURIZING DAY CREAM – MAKEUP FOUNDATION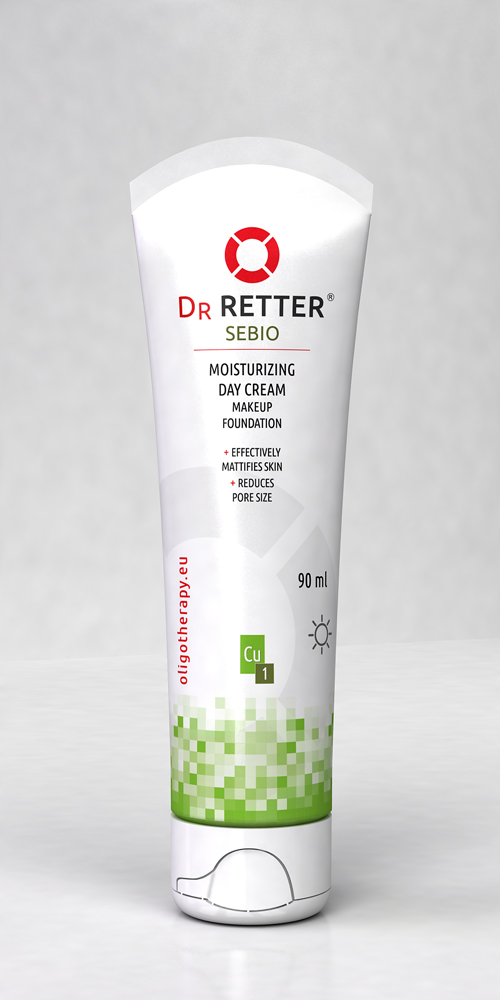 + EFFECTIVELY MATTIFIES SKIN
+ REDUCES PORE SIZE
+ INTENSIVELY MOISTURIZES
PURPOSE: Use the cream for daily care of the problem oily skin, prone to acne eruption. It improves the skin condition and can be used concurrently with antiacneic preparations.
ACTION: This highly effective light cream is perfectly suitable for oily and combination skin and reduces shine in the T-zone. The ideally selected ingredients not only mattify and improve the skin appearance, but also stop inflammatory processes and reduce enlarged pores. Alcohol-free plant extracts of iris, hamamelis and aloe normalize function of sebaceous glands, smooth the skin and even the complexion. The innovative formula of the product includes bioactive copper, which, in combination with zinc salts, prevents acne, relieves irritation, and narrows pores. As a result, you skin looks magnificent, it is properly moisturized and regenerated. The cream is quickly absorbed, leaving no oily film, so it can be used as a superb makeup base.
EFFECT: The cream contains active mattifying ingredients, making the skin velvety and even, absorbing sebum molecules from the skin surface. The synergetic combination of active ingredients prevents skin defects and acne breakouts. The moisturising day formula contains vitamins А and Е, revitalizing the skin, delivering effective care.  With a high content of D-panthenol and allantoin, the product relieves skin inflammation and irritation, reduces redness. The cream wonderfully tones and refreshes, leaving the skin looking healthy all day long.
HOW TO USE: Apply a small amount of the cream to clean facial skin, rub in gently. Use every morning. Ideally suitable as a makeup base.
ACTIVE INGREDIENTS: bioactive copper, zinc sulphate, iris extract, hamamelis extract, aloe extract, vitamin А, vitamin E, D-panthenol, allantoin.
SAFETY: UNIQUE FORMULA "OLIGOTHERAPY 0%" is free from preservatives, parabens, vaseline, essential oils, propylene glycol, phthalates, gluten, substances derived from genetically modified cultures.
PRESERVATIVE-FREE FORMULA
HYPOALLERGINIC AROMATIC COMPOSITION
IDEAL DAILY CARE
Packaging: tube 90 ml
Art. # 251.00