Dr RETTER® C.3. CELLULIUM ANTI-CELLULITE BODY SCRUB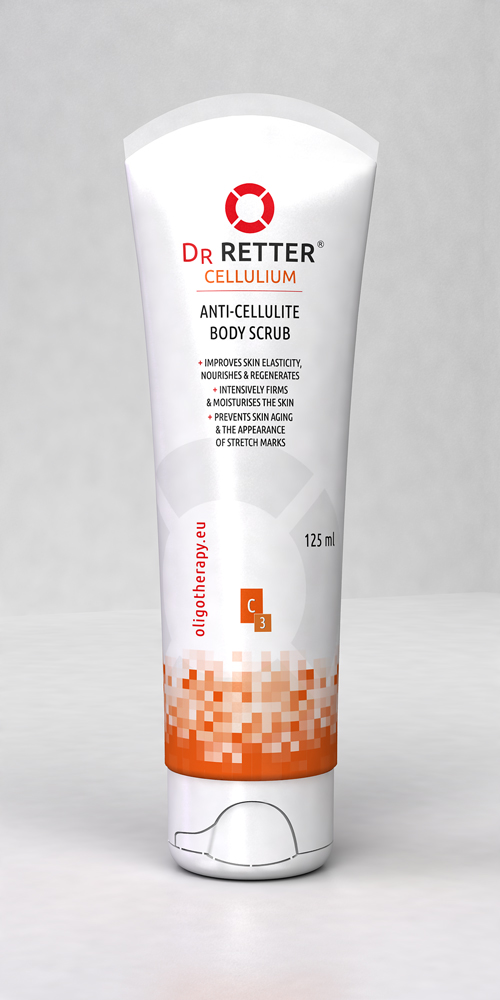 This anti-cellulite body scrub effectively cleanses and refreshes the skin, leaving it firm and silky. Thanks to the content of exfoliating and smoothing particles, it gently massages, improving microcirculation. It ensures perfect skin smoothness whilst improving elasticity and hydration.
– Intensively firms and moisturises the skin
– removes dead skin cells, giving skin a healthy glow
– Improves skin elasticity
– prevents skin aging and the appearance of stretch marks
– improves circulation, nourishes and regenerates
Panthenol soothes irritation and moisturises
The complex of magnesium, zinc and copper minerals protects against free radicals and increases cellular respiration;
Caffeine improves circulation in the capillaries;
Shea and cocoa butter create a protective layer on the skin, regenerate and nourish;
Green coffee oil hydrates and accelerates epidermis regeneration;
Avocado oil smoothes and deeply moisturises the skin;
Vitamin E nourishes and delays the skin aging process;
Centella asiatica extract strengthens the walls of blood vessels;
Lemon extract protects the skin against free radicals;
Usage: 2-3 times a week.
Packaging: tube 125 ml
Art. # 519.00