Dr RETTER® C.2. CELLULIUM BODY SHAPING GEL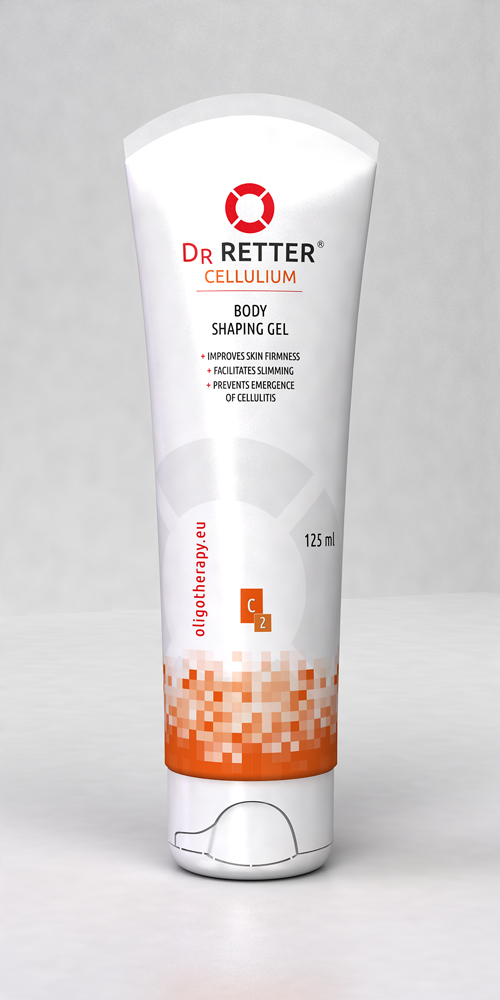 + IMPROVES SKIN FIRMNESS
+ FACILITATES SLIMMING
+ PREVENTS APPEARANCE OF CELLULITE
PURPOSE: Use this gel for the daily care of skin lacking elasticity and firmness with signs of "orange peel" and cellulite.
ACTION: This intensive gel aids the burning of fat tissue and reduces signs of cellulite. This triple slimming formula contains innovative components, which reduce the size of fat cells and gradually breaks them down into smaller particles. Combined with caffeine and centella asiatica extract, noticeably helps to fight persistent cellulite. The product composition includes vitamin C contained in liposomes, stimulating the synthesis of collagen and facilitates the smoothing of the skin surface. Centella asiatica extract moisturises, strengthens collagen and elastin fibres, responsible for skin firmness and elasticity. This gel is quickly absorbed, leaving no oily residue on the skin.
EFFECT: This intensive slimming gel helps to reduce fat tissue and diminishes signs of cellulite. The active ingredients of this triple slimming formula successfully remove "orange peel", stimulate the burning of fat tissue and make the skin surface velvety smooth. This gel significantly improves skin condition.
HOW TO USE: massage the gel into problem areas. Use daily for maximum effect.
ACTIVE INGREDIENTS: vitamin С, caffeine, centella asiatica extract, lemon extract, D-panthenol, glycerine.
SAFETY: UNIQUE FORMULA "OLIGOTHERAPY 0%" is free from parabens, vaseline, essential oils, propylene glycol, synthetic colorants, phthalates, gluten, substances derived from genetically modified cultures.
PARABEN-FREE FORMULA
HYPOALLERGENIC AROMATIC COMPOSITION
IDEAL DAILY CARE
Packaging: tube 125 ml
Art. # 250.00