Dr RETTER® C.1. CELLULIUM WARMING SLIMMING SERUM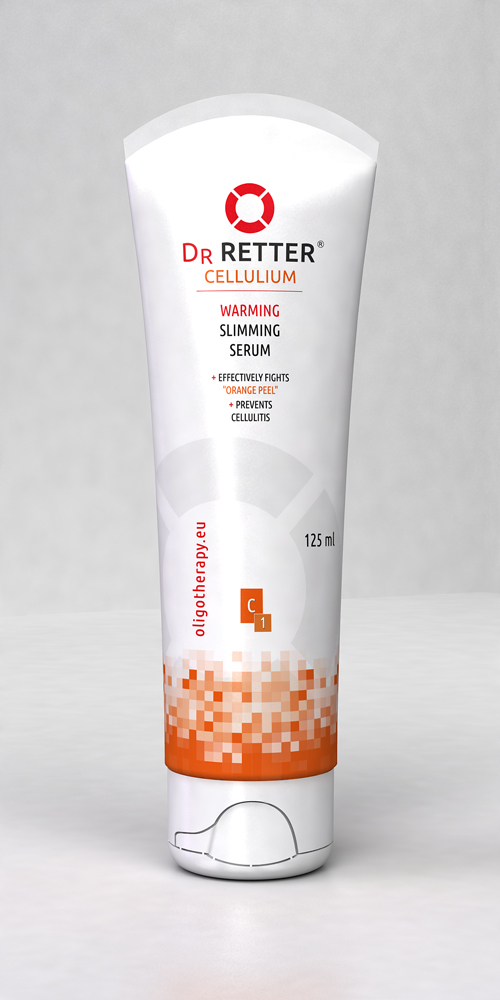 + EFFECTIVELY FIGHTS "ORANGE PEEL"
+ PREVENTS CELLULITIS
PURPOSE: Use the serum for daily care of skin lacking elasticity and firmness with signs of orange peel and cellulite.
ACTION: This slimming serum is a highly potent product, designed to reduce signs of cellulite, smooth the skin, make it firmer and more elastic. Capsaicin of Cayenne pepper gradually warms skin and delivers a pleasant heat sensation. Vitamin С and caffeine, contained in liposomas, effectively boost blood microcirculation and help to get rid of excessive fat, resulting in improvement of the epidermis for more elastic and firmer skin. Algae extract, rich in nutritive substances, saturates the skin with minerals and luxuriously hydrates it. Combined with centella asiatica extract, the formula improves skin colour, makes it soft, smooth and velvety. The serum is quickly absorbed, leaving no oily residue on the skin.
EFFECT: The serum creates a warming, stimulating effect, eliminates signs of cellulite, and perfectly smooths the skin surface, making it more elastic and firmer. The product leaves your skin looking smooth and healthy. Shea butter, vitamin E, allantoin and D-panthenol form an active and effective complex, regenerating and smoothing the epidermis. The product smooths the skin and improves its overall condition and appearance.
HOW TO USE: Rub the serum intensively into problem areas. Wash your hands thoroughly after application. Use daily to achieve maximum effect.
ACTIVE INGREDIENTS: vitamin С, natural capsaicin of Cayenne pepper, caffeine, centella asiatica extract, lemon extract, algae extract, vitamin Е, allantoin, D-panthenol, Shea butter.
SAFETY: UNIQUE FORMULA "OLIGOTHERAPY 0%" is free from parabens, vaseline, essential oils, propylene glycol, synthetic colorants, phthalates, gluten, substances derived from genetically modified cultures.
PARABEN-FREE FORMULA
HYPOALLERGENIC AROMATIC COMPOSITION
IDEAL DAILY CARE
Packaging: tube 125 ml
Art. # 249.00