Dr RETTER® B.5.1 PANTENEUM SOS | SOOTHING AFTERSUN GEL [D-PANTHENOL 7%]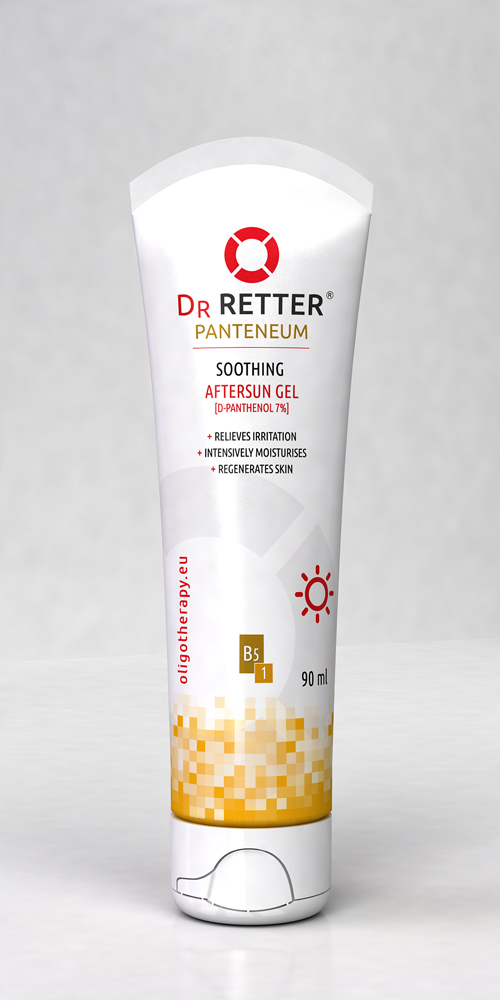 + RELIEVES IRRITATION
+ INTENSIVELY MOISTURISES
+ REGENERATES SKIN
PURPOSE: Use the soothing gel to provide intensive care for skin that is irritated after prolonged exposure to ultraviolet rays. Quickly and effectively soothes damaged skin, beautifully softens and is immediately absorbed.
ACTION: The ultra-hydrating gel with high 7 % D-panthenol content brings relief to damaged skin and facilitates regeneration. This gel effectively soothes irritation caused by excessive exposure to ultraviolet rays both from the sun or in a solarium.
The gel is enriched with provitamin В5, which, penetrating the epidermis, turns into pantothenic acid – a natural component of human skin. Softening allantoin perfectly relieves irritation, aloe and chamomile extracts eliminate burning sensation and relieve soreness. The gel is quickly absorbed and leaves no oily residue.
EFFECT: A high content of active soothing ingredients substantially reduces discomfort of sensitive skin, providing instantaneous relief. Ideally selected components potentiate the protective function of epidermis, quickly improving its condition and relieving irritation. The skin becomes smooth, the sensation of burning and tightness disappears and redness is eliminated. This easy-to-apply gel leaves you feeling soothed and refreshed.
HOW TO USE: apply a reasonable amount of the gel to affected areas of the body, rub gently and wait until it is absorbed. Use when necessary.
ACTIVE INGREDIENTS: D-Panthenol 7%, Allantoin, Aloe Extract, Chamomile Exctract, Glycerine
SAFETY: UNIQUE FORMULA "OLIGOTHERAPY 0%" is free of parabens, vaseline, essential oils, propylene glycol, synthetic colorants, phthalates, gluten, substances derived from genetically modified cultures.
PARABEN-FREE FORMULA
HYPOALLERGENIC AROMATIC COMPOSITION
IRRITATED SKIN RESCUE
Packaging: tube 90 ml
Art. # 287.00