Dr RETTER® Al.2 ALUSPIRIO LONG-LASTING ANTIPERSPIRANT BLOCKER FOR ALL TYPES OF SENSITIVE SKIN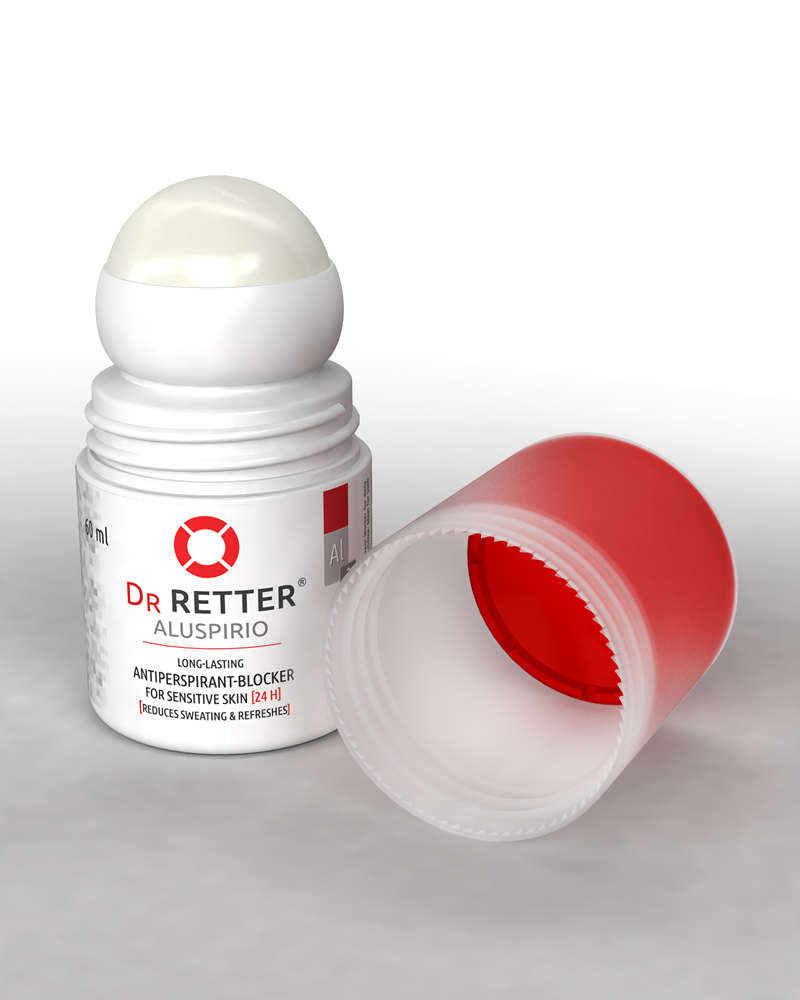 + INTENSIVELY REDUCES SWEATING
+ REMOVES BODY ODOUR FOR 24 HOURS
+ REFRESHES
PURPOSE: Use the long-lasting antiperspirant blocker for daily care of the delicate underarm skin. Alcohol-free. Ideal for both men and women.
ACTION: The highly effective product, containing a synergetic combination of aluminium salts (Aluminium Sesquichlorohydrate, Aluminium Lactate), considerably reduces sweating and removes unpleasant odour. Allantoin softens the underarm skin, aloe extract perfectly soothes, relieving irritation, diglycerin ensures intensive moisturizing. Alcohol-free.
EFFECT: The antiperspirant blocker significantly reduces sweating for a long time, prevents unpleasant odour, magnificently refreshes and tones your skin. Soothing ingredients effectively relieve irritation, moisturize skin. The product delivers long-lasting freshness, is alcohol-free and leaves no white marks on your clothes. It contains a universal allergen-free aromatic composition, therefore it can be used by both women and men.
HOW TO USE: Apply the antiperspirant blocker to clean dry underarm skin. Use 1-2 times a day. Do not use it on irritated, damaged skin, and right after depilation.
ACTIVE INGREDIENTS: Aluminium Sesquichlorohydrate, Aluminium Lactate, allantoin, aloe extract.
SAFETY: UNIQUE FORMULA "OLIGOTHERAPY 0%" is free of parabens, vaseline, essential oils, propylene glycol, synthetic colorants, phthalates, gluten, substances derived from genetically modified cultures.
PARABEN-FREE FORMULA
HYPOALLERGENIC AROMATIC COMPOSITION
IDEAL DAILY CARE
Packaging: roll-on 60 ml
Art. # 248.00