Dr RETTER® A.1. HANDIUM HAND & NAIL REVITALISING & SOOTHING CREAM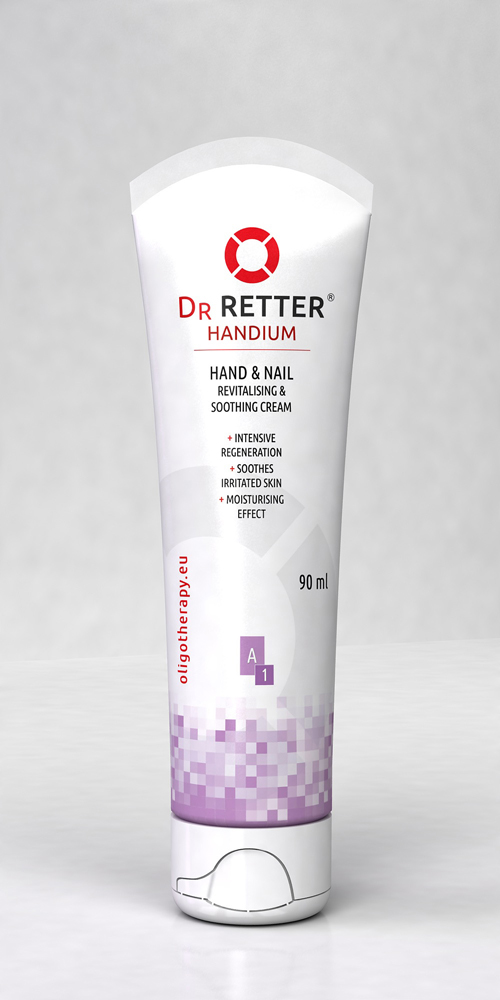 + INTENSIVE REGENERATION
+ SOOTHES IRRITATED SKIN
+ MOISTURISING EFFECT
PURPOSE: Use the cream to provide daily care for dry, damaged skin that needs active regeneration, for fragile and brittle nails. The cream is quickly absorbed and delicately smooths and softens the skin.
ACTION: Thanks to the carefully selected active ingredients, the cream delivers excellent care for dry, chapped skin, quickly making it smooth and soft, restores the optimum moisturisation level and lipid balance and stimulates nail regeneration and growth. The synergetic combination of Moroccan Argan oil and vitamin А makes the skin elastic and velvety-soft, relieving the skin from feeling over-dry and rough. Aloe extract perfectly heals micro-cracks and soothes irritated skin. Combined with D-panthenol and allantoin, it significantly improves the overall condition of the epidermis. The cream is quickly absorbed, leaving no oily-residue, providing superb care whilst strengthening skin and nails.
EFFECT: The nutritive substances of the cream effectively improve the skin immediately after the first application. The regenerating formula strengthens the epidermis, Shea butter covers the hands with a protective layer, preventing skin from losing elasticity, protects from harmful effects of the sun, wind and frost. Pro-vitamin B5 strengthens the nail and stimulates its growth; the nails become less exposed to micro-damage. The cream effectively repairs redness and irritation caused by the use of cleaning agents. Even if you wash hands frequently during the day, a single application of the cream will moisturize the skin in an effective manner.
HOW TO USE: apply the cream to the skin as and when necessary.
ACTIVE INGREDIENTS: vitamin A, active skin-lightening component, aloe extract, lemon extract, cottonseed oil, Shea butter, lanolin, allantoin, D-panthenol.
SAFETY: UNIQUE FORMULA "OLIGOTHERAPY 0%" is free from preservatives, parabens, vaseline, essential oils, propylene glycol, synthetic colorants, phthalates, gluten, substances derived from genetically modified cultures.
PRESERVATIVE-FREE FORMULATION
HYPOALLERGENIC AROMATIC COMPOSITION
IDEAL DAILY CARE
Packaging: tube 90 ml
Art. # 245.00